In the Summer 2019 issue of Hesston College Today, the feature article laid out the college's future-looking plan, Vision 2025, that will continue developing bachelor's degree programs in a handful of carefully selected academic programs by the year 2025. To date, bachelor's degree programs have launched in nursing (2015) and aviation (2019) research and development is continuing for programs in business and engineering. Here is how Vision 2025 plans developed during the 2020-21 year.

Nursing program to benefit transfer students from Sterling College
by Sterling College staff. Used with permission.
In January 2020, Hesston College signed an articulation agreement with another Kansas college, Sterling College, that guarantees admission and seamless transition for qualified Sterling students into Hesston's bachelor of science in nursing program.
"We are excited to partner with Hesston College, and specifically its nursing program, to provide our Sterling students with another path to a rewarding profession where they can demonstrate servant leadership. We look forward to Sterling students utilizing this new opportunity to pursue careers in nursing," said Ken Brown, Sterling College vice president for academic affairs and dean of the college.
The agreement demonstrates Sterling's commitment to training students for in-demand careers and areas of societal impact, and is a reflection on the confidence Sterling places in the high reputation of Hesston College and its nursing program to serve Sterling transfers well.
Hesston College Director of Nursing Education Becky Bartell looks forward to welcoming the first Sterling College students to the program.
"A transfer student's path to a B.S.N. degree is streamlined by relationships like this," said Bartell. "We are excited to develop students who had an excellent start at Sterling College into skilled, knowledgeable and caring nurses."
"I am excited about this agreement with Hesston because it provides a clear and Christian-focused avenue for our students interested in the nursing field to pursue their calling," said Randi Wise, Sterling College assistant professor of chemistry. "Hesston College has a long tradition of excellence in nursing and preparing students to enter this demanding field with a strong foundation, both academically and spiritually."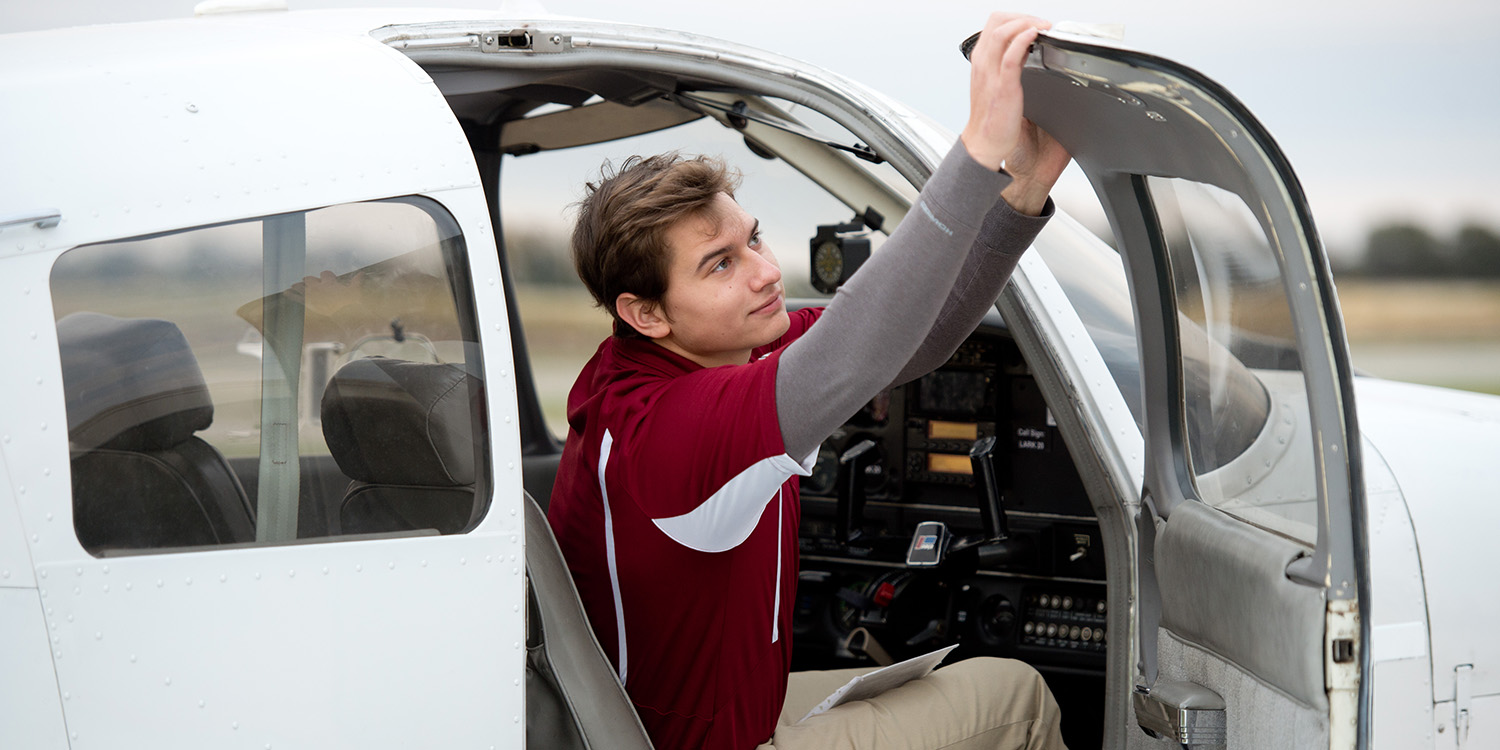 Aviation program granted approval for satellite pilot school
Aspiring pilots in northern Indiana will have a new way to jumpstart their flight training beginning in August 2020.
Hesston College Aviation was granted FAA approval to establish a satellite pilot school at the Goshen Municipal Airport. The satellite location will be operated in a direct partnership venture with New Horizons Aviation, which is co-owned by a Hesston College Aviation alumnus and American Airlines captain, Roger Yoder '79.
"This initiative will authorize New Horizons Aviation to teach Hesston College Aviation's FAA-approved Private Pilot certificate course to individuals interested in completing their FAA Private Pilot certificate before beginning Hesston's associate or bachelor's degree program on campus," said Mike Baker '93, director of Hesston College Aviation.
Hesston College's aviation program has been a popular destination for student pilots from the Goshen and Elkhart areas for all of the program's 49 years of existence, and many in more recent years started their early flight training with Yoder at New Horizons. The new partnership maximizes student benefits for what was already a strong connection between Hesston and New Horizons.
"As an alumnus who got my start at Hesston College and launched my now 40-year-career with Hesston College Aviation, I can attest to the high quality of the college and the aviation program," said Yoder. "Hesston College graduates are well prepared for the challenges of life and careers because of the attention to growth of the whole person they receive at Hesston. You just don't find that level of individual care at larger schools."
Students enrolled in Hesston College Aviation's private pilot course with New Horizons will have the option of receiving up to seven hours of equivalent college credit or transfer credit for Hesston College's Introduction to Aviation, Private Pilot I and Private Pilot II courses.
Hesston College offers both a two-year associate degree in aviation-professional pilot and four-year bachelor of science degree with a major in aviation-professional pilot. The program also operates a two-year associate degree for air traffic control. Hesston College Aviation is one of only two FAA-approved flight schools in the state of Kansas, and the only FAA-approved Collegiate Training Initiative programs for air traffic control in the state.
"All students participating in this venture will receive the identical ground and flight training as if they were attending the same course here in Hesston," said Baker.
Said Yoder: "I'm excited about the opportunity to teach the Hesston curriculum so students will not only get their private license but will be able to transition smoothly to Hesston's courses already familiar with procedures, checklist usage and more."
Business program update
Research and development of a four-year bachelor's degree program was underway during the 2019-20 year. In October 2019, the college hired Debbie McAlister as director of business education to guide the program development. McAlister had previously served as director of and professor for the M.B.A. program at Southwestern College (Winfield, Kan.), and has experience in higher education and business sectors with a variety of organizations.
To date, the college hopes to launch the four-year program in fall 2021. Curriculum has been approved by faculty as well as the Board of Directors, and Hesston College now awaits program accreditation from the Higher Learning Commission (HLC).
Another development housed within in the business program is the planned August 2020 launch of a collegiate DECA chapter known as the Hesston College Emerging Leadership Team with the well-known leadership organization. The DECA team will be an extracurricular option for students.
DECA is a global organization focused on preparing high school- and college-age leaders and entrepreneurs for careers in marketing, finance, hospitality and management, as well as equipping them to lead throughout any career path.
"The DECA Emerging Leadership Team is a great opportunity for any entrepreneurial-minded student who wants to improve their leadership skills through experiential learning opportunities, including business-related competitive events," said McAlister. "We're excited to be able to offer another avenue for students pursuing all majors to build up their marketable skills in this way."
DECA is well-known for its competitions that allow students to test their experience, skill and knowledge in simulated real-life situations. In addition to the competition team, Hesston students participating in DECA will have a variety of other resume-building benefits and be eligible for the Hesston College Emerging Leaders Scholarship that can cover from 45 to 65 percent of tuition.
"The DECA organization is committed to providing students at its member institutions with academic preparation, the importance of service to the community, professional responsibility and leadership skills," said McAlister. "These same values are paramount to the Hesston College community and will be enhanced through DECA events."