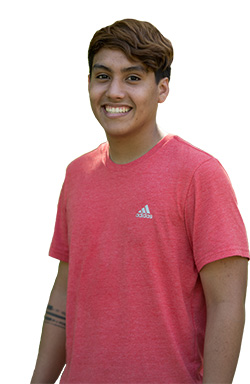 Santa Tecla, El Salvador
Major: Business
Activities: Soccer
Starting the Hesston Experience
Hesston College found me through soccer, and that's what opened doors for me to come here. When my coach at home told me Hesston College had seen me play and was interested in me, I started doing research about the college and Kansas. I liked the college's values and that it was a place I could feel at home.
When I arrived on campus, I was very glad to see that the things I had read about online matched up to my experience. The people here are just so nice and help you with anything you need. I instantly felt welcomed. I also really appreciate the diversity found on campus through the international student population. It's interesting to learn about and experience different cultures through the people that you get to see every day.
The Hesston Experience: Coronavirus edition
I was grateful that Hesston College allowed international students and some other students to stay on campus throughout the coronavirus period of the spring semester. Not only that, but they continued to provide meals and offer on-campus CAB activities from time to time for a change of pace. I know that kind of care wasn't the case at many other colleges and universities, and I was grateful that I didn't have to figure out things like housing and meals on my own.
Having so few students around was definitely a different experience, but we found ways to continue to have fun, and I got to know people I previously didn't know that well.
I had planned to go home to El Salvador this summer to see my family, but because of the pandemic, my country closed its borders. Hesston College offered me an amazing opportunity to instead stay in Hesston for the summer. The college gave me a place to stay in a campus house with some aviation students and offered me a job helping in the Admissions Office.
Staying here this summer has grown my community. I have enjoyed getting to know my aviation roommates better and learning from them. I have also gotten to know people from the Hesston community, as well as faculty and staff that I see at work. I learn new things every day, and I'm grateful for this opportunity I have been given.
The Hesston Experience moving forward
Even though staying in Hesston this summer wasn't part of my original plan, it has been good, because now I know I will have no problems returning for the fall semester. With travel restrictions and visa roadblocks, coming to the U.S. for college this year will be difficult for many international students who are coming straight from their home countries.
I am really looking forward to the new school year even though it will still look different from last year. I am just excited to see my teammates again and get back to practicing with the soccer team. I am looking forward to meeting the incoming freshman and doing my part to help them feel part of this big Hesston College family.