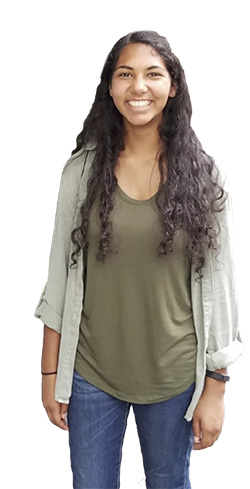 by Marta Jantzi '21 – This article was written for an assignment in the spring 2020 Writing for Media class.
Major: Pre-med
GO EVERYWHERE: Serving in hospital internships in India in a year-long assignment through Mennonite Mission Network since September 2019
Service in a time of pandemic
Homemade hazmat suits made from garbage bags and tape are strung up to dry, waiting to be used. Surgeons cover themselves up the best they can, ready to start treating in the triage center. Hospital staff sew masks out of whatever is available. Locals come to get rations to sustain their families. Meanwhile, Faith Manickam '19 works diligently alongside a dedicated hospital staff, helping to care for patients.
Manickam, a pre-med major, lives and works on the campus of Madhepura Christian Hospital in Bihar, India. The hospital serves a variety of needs, prioritizing emergencies, but their role has had to change.
"The lockdown has brought incredible hardship to the poorest here who live off their daily wages and have no other way to care for their families," Manickam said. "The hospital has begun distributing food and other basic supplies to families from the surrounding villages where the usual mobile clinics that are run have been stopped."
Manickam chose India for two reasons: to get experience in hospitals and to serve needy communities.
"The poor and marginalized are not only discriminated against by society but don't even have the privilege of staying at home under quarantine," said Manickam.
With their makeshift triage center, Manickam and the other workers are still able to treat emergencies with less of a chance of being exposed to COVID-19. The hospital has been split up into two units so that if one is exposed to the virus the other will still be able to treat patients. With this system, the workers will work for three days and get three off.
Lack of testing in this developing country during a pandemic adds to the hardship. Because the small local hospital does not have the equipment or provisions to care for COVID-19 cases, anyone with symptoms similar to those of the virus has to be turned away.
"For this reason we have to refer all suspected patients," said Manickam, "but some are too poor to be able to afford to go anywhere else. This has been very difficult for us all to accept."
Eighty percent of India's population of 1.3 billion are migrant workers or are daily wage laborers. Many of these workers take home less than $5 a day, which is not enough to sustain their families. Because workers have been denied the ability to work due to the lockdown, hospitals have begun distributing food and basic necessities.
"At the hospital they tell us that before coronavirus kills them, they will die of hunger," said Manickam. "While the government has set aside some money for aid, very little of it reaches those who need it most."
As it is at Hesston College, community has always been very important to her. Before the pandemic, Manickam and the on-campus workers could be found every evening singing, playing games, or cooking together. Now that social distancing is in place they can no longer do those things. But Manickam is still finding joy in other ways.
"I find myself hearing the songs of birds so clearly, and seeing the beauty of nature that we often are too busy to stop and notice," said Manickam.