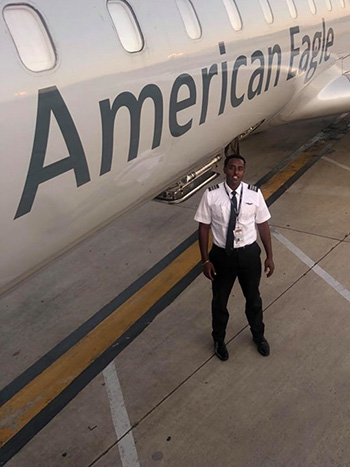 by Luis Caraccioli '21
This article was written for an assignment in the spring 2020 Writing for Media class.
February 2020: The melting pot of an airport, busy as ever. Families going on dream vacations. A long-awaited honeymoon adventure begins. A business trip to another city, another country.
April 2020: Empty walkways. Fearful travelers. Silence throughout the airport.
That's the new reality faced by PSA airline pilot Ashenafi Tadese '16, an essential worker during a global pandemic. Despite COVID-19, Tadese aids thousands in travel across the U.S. every day, exposing himself to the danger of the virus.
But his work for the American Airlines subsidiary looks quite a bit different than it did before.
"My everyday life lately has changed quite drastically with work," said Tadese. "I walk into the cockpit, wipe down everything with sanitation wipes and get to work, hoping the person sitting two feet to my right – my first officer – doesn't get me sick."
In the midst of a global pandemic, Tadese's work comes at a price.
"Usually when I get home from flying a route, I check in on my parents at their home but that cannot happen," said Tadese. "I fear I may very well have had exposure and don't want to pass it to them, so it's just phone calls."
This reality leaves Tadese, along with millions of Americans, wondering when it will all end. In April, airline travel in the U.S. had slowed down 96 percent, according to CNN. Gone are the joyful passengers and happy couples.
"There are no more children wanting to come up front to take pictures and wanting to press all the cool buttons," said Tadese. "I miss the faces."
"I talk with my first officer and the conversations these days are about the same – how much longer we will have our jobs as we see other companies reducing staff or closing down for good," Tadese added.
But against all the odds, Tadese is optimistic.
"The industry will bounce back as it always does," said Tadese. "Reach out to others; you'll be surprised by the number of resources and encouragement you'll receive."
Soon enough, those little kids will be able to visit Tadese in the cockpit, and he'll be inspiring the next generation of aviation students again. The silence and gloom of the airports will turn into the laughter and smiles of a brand new adventure all over again.
After all, turbulence is just a part of the job.