A day in the life of a Hesston College student during the second half of the spring 2020 semester looked much different than it did during the first half.
For a campus community focused on interpersonal relationships and hands-on learning, the coronavirus pandemic morphed the student experience into something completely unexpected. But that doesn't mean it eradicated the Hesston Experience.
"It's not just the place that makes up Hesston College," said Rachel Miller '20 (Freeman, S.D.). "It's also the students, faculty and staff. Having moved off campus, I missed the feeling of being in a tight knit group and always having someone there for me when I need them, but we still found ways to connect and I appreciated that."
Thursday, March 12 – two days before spring break – was the day life changed for the Hesston College community. Early in the afternoon, administrators called meetings for both students and employees to inform them of a COVID-19 action plan that would be implemented immediately.
Colleges and universities across the country had been temporarily suspending in-person classes for several days already and Hesston College decided that was the right decision for its community as well.
College-sponsored spring break trips were canceled and students with other planned spring break travel were also encouraged to reconsider. Instead of closing the dorms as is typically done for the week of spring break, they remained open for students who wanted to stay on campus. Faculty and staff also canceled spring break plans in order to prepare courses to be held online when classes resumed on March 23. The online learning period would last for at least three weeks until April 13.
As the pandemic continued to snowball, so too did Hesston's plan. By March 18, the decision was made to move classes online for the remainder of the academic year. The dorms would remain open for students who had legitimate reasons to stay – international students who couldn't go home, aviation students who needed to continue flight training, and others who might not have access to essential learning resources.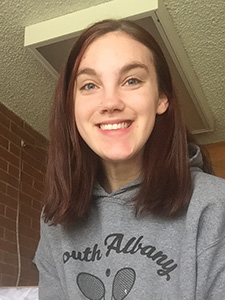 "Staying on campus was my best option for academic reasons," said first-year student Kaytlen Keough (Albany, Ore.). "It's a lot easier for me to continue learning in the place I've been used to learning all year. I chose Hesston College because I knew it would be a place I could find a comfortable space to grow and experience new things within myself. That was still the case even when it looked different."
Keough was one of about 50 students who finished out the year on campus – about 18 percent of the year's full dorm count.
On-campus students were relocated to one dorm facility for conservation purposes. In order to comply with social distancing standards, all dorm rooms became single occupancy. Like their off-campus classmates, they still did their learning online. Dining Services continued to prepare and serve meals, though not with the traditional buffet format, and the Campus Activities Board (CAB) continued to organize on-campus student activities for a little entertainment.
"The college did the best job, in my eyes, to take care of my needs as a student as well as my personal needs," said Keough. "Everyone had to give up something to either help ourselves or others around us. I feel the Hesston faculty and staff went above and beyond."
Even for the students who returned home, the community aspect and relationships were not lost.
"I connected with my professors through Google Meet, which was better than only having email all the time," said Ian Lecki '20 (Overland Park, Kan.). "As for staying in contact with my friends, we talked every day and tried to have time once a week to have a colossal Facetime call with 15 to 20 people."