It's not unusual for Hesston College employees to have long tenures. After all, when you find a community that welcomes you, embraces you and supports you so well, it's easy to love it and you stay where life is good.
At least that's how Brent Brockmueller '01 felt about it for 13 years.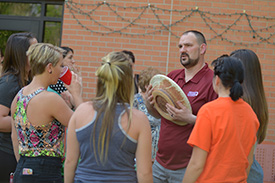 What's unusual about Brockmueller however, more commonly known by his nickname "Dogg," is that he devoted 10 and a half of those years as a resident director (RD), a role that typically sees turn over every two to three years as it tends to draw young adults fresh out of college and transitioning to "the real world."
"When I started as RD, I envisioned being here a long time," said Brockmueller, "But my definition of 'a long time' was like four years."
From fun times connecting with students to the not so fun, Brockmueller stuck it out much longer than most because he cares so deeply for the students and enjoys watching their growth into young adulthood.
"I just love this place," Brockmueller said. "As a whole, our students take care of each other so well."
Brockmueller started his journey as RD in August 2005 after completing an undergraduate degree in elementary education from Tabor College (Hillsboro, Kan.). Since he had lived it personally, he was sold on the Hesston Experience and he wanted to be a part of it again.
His plan of four years turned into six before Brockmueller decided to give up his post as RD. He had married Angie Martin '99 during fall break of that final year, and decided it was time to move off campus and on to new things.
The Brockmuellers didn't move far as Angie had decided to pursue nursing through Hesston's program. Shortly after making the decision to end his time as RD, a job opened up at the college for an admissions counselor, and Brockmueller was hired.
After two years in Admissions and with Angie also having finished her nursing degree, the Brockmuellers bid farewell to their years of service to Hesston College and found new jobs in the local area – Angie as an RN with her newly minted nursing license and Brent working in activities at a local retirement community. But it didn't last.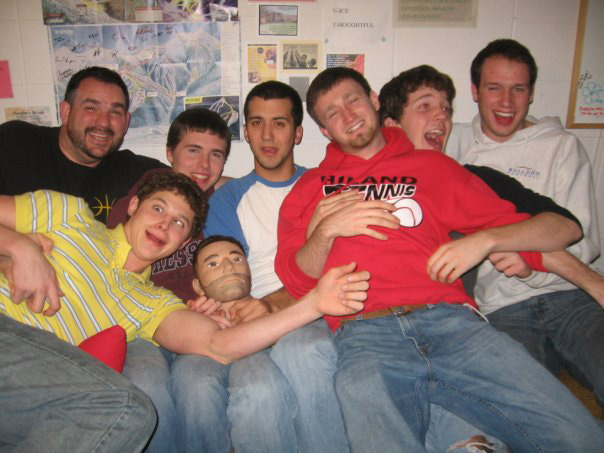 "After I'd left the college, I would have conversations with the new RD about RD life," said Brockmueller. "One time, Angie told me, 'You know, if you wanted to be an RD again, you could.' I said I wouldn't put her through that again, and she said, 'I don't mind living in the dorms – it's not terrible for me.'"
Coincidentally, after just one semester away from the Hesston College, a male RD position was vacated in the middle of the year, and Brockmueller was asked to step in to finish out the year.
And when that one semester was up…he stayed for four more years.
"I just knew that if I was going to live around here, then Hesston College is where I want to work," Brockmueller said.
Now the Brockmuellers are moving away from Kansas, back to Brent's hometown of Freeman, S.D., where he will take over his family's farming operation. Angie, who has spent several years working as assistant registrar and interim registrar during times of transition, will continue in her Hesston College role remotely.
The move, Brent says, will be bittersweet.
"Going back to the farm has always been part of my plan, so I'm excited about that, but I'm really going to miss this, too," he said. "I enjoy getting to know the students. Being an RD at Hesston is different than it is at a lot of other places. Other schools have really pushed for the professionalization of the role – RDs keep office hours and that's when students can reach them. So much of what we do here is being intentional with our relationships."