CJ (Unruh) Byler along with her husband, Billy, and daughter, Hazel, play a round of disc golf at Hesston College on the newly installed course in memory of her father, Doug. Courtesy photo.
Open to both the Hesston College community and the wider community, a newly installed disc golf course on the Hesston College campus honors the memory of an alumnus, his lighthearted personality and his appreciation for his alma mater.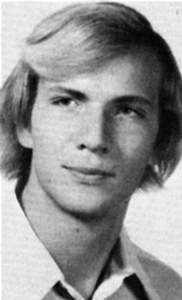 The family of Doug Unruh '74, used memorial funds to establish the nine-hole course as a tribute to their husband, father and grandfather who passed away March 27, 2014.
"Doug totally embraced the Hesston Experience," said his wife, Patsy (King) '75 Unruh (Perryton, Texas). "He really grew there as a person. He came from Lakewood (Colo.) High School – a big high school in a Denver suburb – and he loved the smallness of Hesston. He was big on relationships and having fun."
As the family discussed plans for memorial funds following his death, they settled on three places they thought would please him, including Hesston College. A love for the game of disc golf grew from years of competitive tournaments at summer family reunions, so the ideas meshed to bring disc golf to the Hesston campus.
"Doug is still the overall family reunion champion," noted Unruh. "He was competitive and loved games – we even had a disc golf course at our home."
Doug's fond memories from his time at Hesston College spilled over to his family as his children grew, and all three attended Hesston – a son Monte '01, and daughters Lisa (Unruh) '04 Beun and CJ (Unruh) '07 Byler.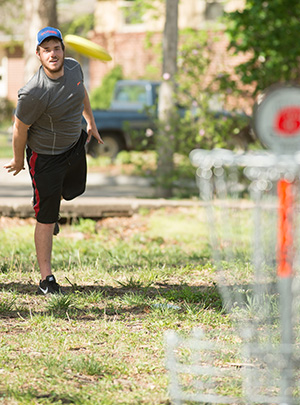 The course spans the north end of Hesston College's campus, starting near the northeast corner of the Main Street parking lot and campus entry, and stretches behind Keim Center for Performing Arts Education. With all baskets in place in early April, students were more than happy to help break it in, and community members are often seen out playing during their lunch breaks and in the evenings.
"We're grateful to the Unruh family for giving this gift in memory of Doug to Hesston College and the wider community," said Mike Zucconi, director of Development. "Students are excited to have it on campus, and we anticipate that it will provide a fun source of recreation to others in the community as well."
Along with the college's Campus Facilities staff and Trevor Oyer '17, who was excited by the prospect of an on-campus course, the Unruh family helped plan the layout during a 2016 family reunion in Hesston where they played what would become the official course using trees and other bits of nature as makeshift holes.
Several of Doug's family members who live locally to Hesston and those who have been in town visiting, have also made it a point to play the course as they remember their loved one.
"Jim Mason (Director of Campus Facilities) sent me pictures of the first students through the course on the first day it was in," said Unruh. "It was so exciting to see. Doug would be pleased that something in his memory is bringing joy and fun to people."
The disc golf course will be dedicated in Doug Unruh's honor during Homecoming Weekend, at 9 a.m., Saturday, Sept. 29.