Wichita, Kan.
Career: Owner, event planner, designer and stylist at Events and Design by Ashley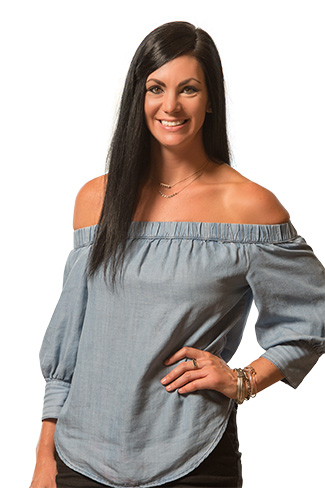 Becoming an entrepreneur
"I never imagined I would be a wedding and events planner. I've always enjoyed designing and decorating, but I was studying broadcast journalism in college, so something like this was never part of my plan. But I found myself working for a friend who was a wedding planner, and after about three years of working for her, she was looking to sell the business. I went on a mission trip to Africa about that time because I've also always loved serving, and there my friends encouraged me to start my own wedding planning business. It seemed like a great way to combine my passions – design and service. When I got home from Africa, I decided to take the risk. I thought I'd do one or two weddings because who would want to book little old me? What was great was that I had established relationships with vendors working for my friend, so things just started to take off. I bought a logo off of Etsy for $35 and the rest is history.
We've grown a lot over the last eight years. We started out just doing weddings, and now we do corporate events as well. We do 60 to 75 events a year, and have done more than 325 in the life of the company. We have 15 team members who help with events. We moved to this space [in Wichta's Old Town district] about a year ago. We rent it out for small showers, parties and wedding receptions. A lot of our business comes from word of mouth referrals. The experience people have with us is what gains business. I just genuinely love people and want to create a good experience for them. My clients recognize that. We become like family. I think that's what separates us from others like us."
Building relationships
at Hesston…
"I started at Hesston because I was offered a volleyball scholarship and fell in love with Vanessa Schroeder [head coach 1998-2009]. It was close enough to my home in Wichita, but also far enough away that I felt some distance. Also, it was faith-based, and that was super important to me. I wasn't Mennonite, but I knew at the core of Hesston was Christ, and that's what I wanted for my life. It was the best two years of my life. I built relationships that are still intact and impact me. Maria Day [Spanish professor 1995-2015] was my favorite. I barely passed her Spanish class, but she loved on me and I loved her and we got along. Tony Brown '69 was always such an encouragement to me also."
…and everywhere
"After Hesston I moved to North Carolina where I was a nanny for two years. I went to church there with a woman who was the founder of an orphanage in Kenya, and who had adopted a couple of Kenyan kids. I was adopted when I was seven years old, so she asked me to mentor her daughter who was struggling with some attachment issues. I told her about this camp I had been involved with – Royal Family Kids Camp (RFKC), which serves children in the foster system. She sent me to a week-long training to become an RFKC director so I could bring the camp to her orphanage. That's what took me to Africa the first time. I've been back every year for the past eight years, and the camp has grown from about 80 kids to almost 200.
I'm so blessed that I am able to live my passions every day. I love creating an atmosphere for people to celebrate that is a reflection of who they are as a couple or business. It's been a neat journey."
Ashley has two young daughters, ages 9 and 5. Her business is currently in a rebranding process to become "The Collective" – a group of vendors and individuals with whom to collaborate and design.