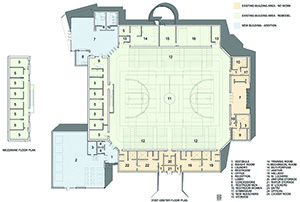 The Be Greater capital campaign seeks to improve Hesston College's ability to nurture, serve and educate students, particularly those who participate in the college's athletic program and those preparing for nursing careers.
In May 2017, Hesston College announced a $6 million capital campaign that will address facility needs in the athletic and nursing programs. In the summer 2017 issue of Hesston College Today we told you about the nursing portion of the campaign that will include renovations to the existing nursing center as well as a 9,740 square foot addition to be named in honor of longtime Director of Nursing Education Bonnie (Kauffman) Ac65, '67 Sowers. Now we'd like to share the details for the athletic part of the campaign.
Athletics and nursing are the college's two largest programs with about 75 percent of total student enrollment falling into one or both categories. The campaign began in 2014 with a needs assessment, which identified clear deficiencies within the physical spaces that were built to support significantly fewer students than are served today. With significant and ongoing enrollment growth in both programs, the need for upgrades to the existing facilities became a key strategic priority.
Each portion of the campaign carries a $3 million price tag. In January, the college was awarded a $750,000 challenge grant from the J.E. and L.E. Mabee Foundation of Tulsa, Okla. The terms of the grant give Hesston one year – until the end of 2018 – to complete fundraising, with construction to begin immediately following and completed in August 2019 in time for the fall semester.
"As we enter the final phase of the Be Greater campaign, it has been amazing to see the generosity of our supporters," said Byron Rupp, vice president of Advancement. "At the end of June, more than $5.5 million had been raised, with just under $500,000 in gifts and pledges needed before construction crews can break ground. With such great student interest in these two programs, the updates to campus will have a significant effect on students today and in the future, and make the things we do now even better."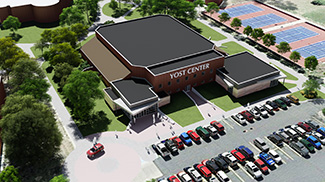 Athletics
Lark Athletics headquarters from Yost Center, which was built in 1982 at a time when the college fielded six intercollegiate teams with about 80 student-athletes. Today, student-athletes number more than 175 across 14 teams. The need for additional space to accommodate today's programs and future growth is paramount.
Hesston College Athletics works to create and foster a Christ-centered environment that provides opportunities for the development of the whole person. Student-athletes are fully integrated into the campus culture and perform well in the classroom, consistently achieving an average GPA of 3.0 or above.
Challenges for Yost Center and the athletic department:
14 teams share Yost Center facilities which were designed to accommodate six sports.
Too few offices for coaches in Yost Center.
Yost Center's main entrance on the east (campus) side of the facility, paired with parking on the west side, poorly serves fans and visitors arriving from off campus.
Limited on-campus weight training and fitness facilities that the general student body cannot utilize.
A city-ownedsoftball field located several blocks from campus creates uneven experiences for the softball program and its student-athletes as all other teams have on-campus facilities.
Outdated gym in need of upgrades.
The plans to address these challenges include:
The addition of a 3,000 square foot weight room on the southwest side of Yost Center that will serve all students.
A new on-campus softball diamond to the east of the soccer field.
The addition of a new lobby on the northwest side of Yost Center that is a more direct, welcoming entrance for campus guests.
A coaches office suite, allowing for collaboration and a more collegial working environment.
Renovation of the main gym, including updated bleachers, flooring and a fresh interior.
Cost breakdown – Yost Center/Athletics
| | |
| --- | --- |
| Weight/Fitness addition | $725,000 |
| Lobby addition | $665,000 |
| Office suite (remodel existing racquetball courts) | $535,000 |
| Softball field | $250,000 |
| Gym refresh | $200,000 |
| Furniture and weight room equipment | $200,000 |
| Training room/Team room remodel | $150,000 |
| Fundraising (9% of total) | $275,000 |
| Total Athletics expansion/renovation | $3,000,000 |