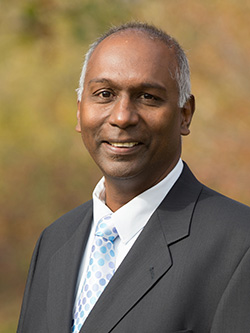 Saying that time flies seems cliché, but also so relatable. The first half of the 2018-19 year is nearly behind us when it seems like we just welcomed students to Opening Weekend and the start of a new chapter of their lives.
We celebrated Homecoming in September with an emphasis on the legacy of our athletics program. It's always wonderful to connect with alumni and friends, hear about their stories and lives, and to give our students the opportunity to see what life could hold after Hesston as well.
This academic year is busy with new initiatives and ideas taking shape. The projects in the works will increase Hesston College students' opportunities and continue making Hesston more relevant and accessible to students from all over the world. As you read through this magazine, you'll hear more about some of these initiatives, but I want to highlight some for you here as well.
Perhaps the biggest campus headline news is that we earned the $750,000 Mabee Foundation challege grant for the Be Greater capital campaign by raising $5.25 million before the end of the year. Come to campus for Homecoming in September 2019 to see the completed spaces, celebrate these outstanding programs, faculty, staff and students and thank those who contributed.
In late October we hosted a team from the Higher Learning Commission (HLC) that evaluated our readiness to expand the aviation program to the bachelor's degree level. They were very positive about the Hesston Experience as well as the history and reputation of the program. We won't receive final word on the HLC's decision until early 2019, but we are hopeful for a positive recommendation for degree approval. Until then, we will continue to prepare and plan for a tentative fall 2019 launch.
Transcultural learning and expanded global engagement are high on our list of priorities. We are having conversations with organizations that will give our students opportunities to travel, learn and grow in new cultures, as well as bring more students from around the world to our campus for their education. It is important that we equip students to be well-rounded, compassionate, receptive to new ideas and perspectives that differ from their own, and responsible global citizens.
It's an exciting season at Hesston College and we are so humbled by and grateful for the many blessings we have received this year. As we move into a new semester, please continue to pray for this community and the important work with which we have been tasked.
Dr. Joseph A. Manickam '87, President