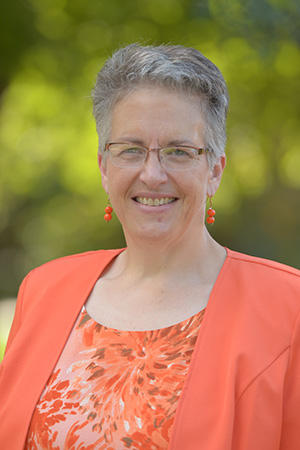 The field of mathematics is one with set rules and processes and any deviation may result in an incorrect conclusion. Fortunately for Joanna Osborne '80 Masingila, a mathematics and mathematics education professor and dean of the School of Education at Syracuse (N.Y.) University, the same is not true of life – it allows for new paths and new ways of perceiving.
Looking at Masingila's life experiences from the outside shows many opportunities for learning from others and gaining understanding of new ideas. From her childhood, several experiences introduced Masingila to different deviations from "the norm" – like her family hosting international students in their home, moving from Oregon to Kansas at the age of 10, and living and studying with other students from across the globe at Hesston College. Later, Masingila married a man from Kenya, spent time living, working and serving in Kenya, and taught in classrooms from high school through doctorate level both in the U.S. and overseas. Many of her life experiences wouldn't fit the stereotypical "norm."
Only in the last year did Masingila discover a quote by the French novelist Marcel Proust that encompasses much of what she has found to be true about life: "Discovery consists not in seeking new lands, but seeing with new eyes."
"Seeing with new eyes didn't start when I came to Hesston, and it didn't end when I left Hesston, but Hesston College has played a significant role in how I see and interact with the world," said Masingila. "I had what I call a God encounter at Hesston where I heard God speaking to me about opening my eyes and seeing, learning and trying to understand others' universes. Faculty, staff and my peers challenged me to do that and to think in different ways and examine my beliefs critically."
After finishing at Hesston, Masingila continued on to Goshen (Ind.) College, where she was again influenced through engaging with Haitian people during a three-month Study Service Term (SST). She earned her undergraduate degree in mathematics and was also prepared as a teacher. She and her husband, Adamson Masingila '79, were married and she began teaching high school mathematics. Joanna soon returned to school to complete a master's in mathematics education from Indiana University-Purdue University, Indianapolis, and later a Ph.D. in mathematics education from Indiana University (Bloomington). Masingila was hired at Syracuse University as professor of mathematics and mathematics education in 1992. In 2014 she was named interim Dean of the School of Education before accepting the role permanently following a nationwide search.
As she's moved through life and her career, Masingila has remembered God's call for her to open her eyes and remained receptive to the opportunities and experiences placed before her.
"Continually seeking to open my eyes and see with new eyes has enabled me to have many different experiences and establish many meaningful relationships – with students, colleagues, community members and people around the world," she said.
In 1998, the Masingila family spent seven months in Kenya when Joanna was a Fulbright scholar at Kenyatta University (Nairobi). That time in Kenya led to 20 years of collaborative work for Masingila in teacher education and research in the country. Through Masingila, Syracuse University established institutional linkages with Kenyan universities, and has had more than 30 Kenyan students pursue graduate studies in education at Syracuse.
More personal connections with international students have also formed as the Masingilas offer students rides to their church. One such connection resulted in the church congregation taking on a nine-year collaborative project (2002-11) to build a new primary school in a small Kenyan village, as well as offer workshops for children and youth, professional development for teachers and more.
Through each of her roles – scholar, instructor, mentor, friend – Masingila's experiences can show the people she encounters the value of stepping outside their comfort zone and seeking understanding in new situations – seeing with new eyes.