by Jasmine Pankratz '18 and Rachel McMaster
Talk with Evan Oswald '48 for even a few short minutes and a couple of things will become clear – he's passionate and determined.
Those qualities dominate at 94 years old, and they were likely evident in Oswald as a "green" 24-year-old in 1949 when Hesston College President Milo Kauffman Ac22, '26 shoulder-tapped Oswald to help bring intercollegiate sports to Hesston College.
Born in Ohio, Oswald came to Hesston College as a student in the mid-1940s when the school's opposition to intercollegiate athletics still dominated the campus.
The college's catalog made it clear: "HC maintains a policy of strictly intramural athletics. This system best fulfills the purpose of athletics in our educational institution and eliminates some of the attending evils of intercollegiate athletics." (A School on the Prairie: A Centennial History of Hesston College (1909-2009), John Sharp '73).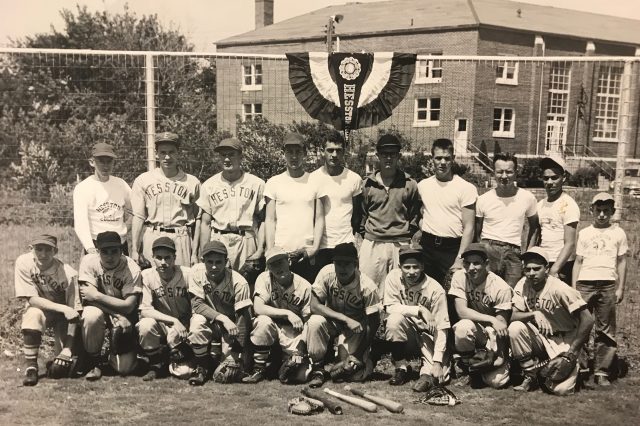 But Oswald was determined. He described his persistence in a 2012 letter to the baseball team:
"With Ohio blood in my veins, I played so hard in the on-campus sports program that President Milo Kauffman called me into his office and asked me if I would consider going to the University of Illinois to get my degree and come back and set up an intercollegiate athletic program."
So Oswald decided to make a career out of his two passions: sports and faith.
"Sports for church service! That sounded great to me, and that I did for 20 years," wrote Oswald.
After earning his degree, Oswald returned to Hesston College in 1951 as a physical education instructor with a mandate to begin the college's exploration into intercollegiate sports.
Oswald has often been referred to as "the father of Hesston College intercollegiate sports," and was recognized during Homecoming 2018 as a key player in the 60 year history of Lark Athletics, but he is quick to share the spotlight.
"Looking back, sports at Hesston became a reality because Milo was willing to take risks," Oswald said.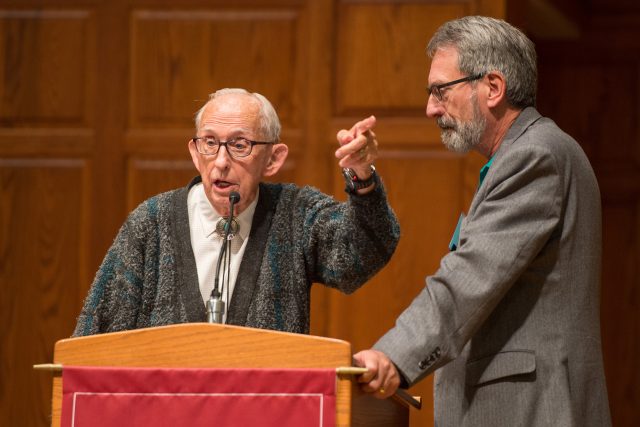 As John Sharp notes in the centennial history of Hesston College, Kauffman was a sports nut himself and would sometimes sneak off to baseball games in Kansas City. The opposition from the college's constituency was fierce. Many felt that sports were "indecent," "distracting," would "lead to hostility between teams," "Sunday morning weariness after Saturday night games" and would soon be followed by "betting, smoking and theater, and finally, [the players would have] no stamina to remain faithful as God's peacemakers."
Kauffman and Oswald didn't see it that way, instead recognizing the camaraderie, teamwork and life lessons that sports provided. They decided to take the risk.
The first intercollegiate game Hesston College played was a basketball game with Tabor College's B squad on January 20, 1956, in which Hesston lost 61-52. Oswald was on leave from the college to work on a graduate degree, but the work he had done in the previous five years set the stage for President Roy Roth and Oswald's interim, Ray Kauffman, to make the decision to move ahead with the game, and thus the advent of intercollegiate Lark athletics.
With the initial roll out of intercollegiate sports complete upon Oswald's return to Hesston, he built and operated a highly organized intercollegiate program, adding sports one at a time based on student interest and what would be a good fit for Hesston's culture. The success of the programs didn't mean the criticism ceased, yet Oswald was unfazed by the critics.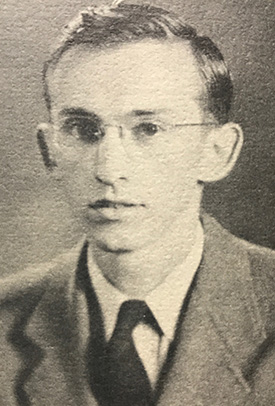 "I learned to live with opposition," Oswald said. "If you felt that what you were doing was right and necessary for the good of the church and the school, you took the criticism."
In 1963, Oswald developed the Prairie Christian College Conference, later named the Prairie Junior College Conference, of which Hesston won the All-Sports sweepstakes award for six of the first eight years of the conference's history.
By 1971, Oswald had established ten intercollegiate sports programs – seven on the men's side and three for women. He was the first basketball coach, tennis coach, golf coach, baseball coach and first athletic director.
That year, Oswald planned for a one-year sabbatical and ended up at Navajo Community College in Arizona, now Diné College, and the one-year plan turned into a 14-year career helping build an athletic program for the Warriors, including a strong archery program that continues today.
Oswald's recruitment strategy was simple – asking: "Do you want to be a winner?"
And win they did. In 10 years, his archery program won five state championships and competed in six U.S. collegiate archery championships, winning second among U.S. community colleges at the Olympic Village in 1981.
Closing out his working career didn't mean hanging up his passion for sports.
Oswald officiated at the archery championships at the 1984 Olympic Games in Los Angeles. He also spent 10 years as the director of activities at the Glencroft Senior Living Community (Glendale, Ariz.), and he has played in the Phoenix Table Tennis Club for almost 30 years.
"I'm 93, I have neuropathy and vertigo, but still play in the Table Tennis Club," Oswald wrote in a 2017 letter to Pankratz. "That's TABLE TENNIS, NOT PING PONG."
He's competed in four National U.S. Senior Olympics and managed to match the sound of success that has echoed throughout his life.
"In the qualifying Arizona State Senior Olympics, I didn't have any competition in the 90-94 age group so I had to play down in the 80-89 age group and I beat their gold medalist in that age group," he said.
And even at 94 years old, he's still coaching.
"I'm still a sports nut," Oswald said. "I'll sit and watch the Diamondbacks, turn off the sound and I'll coach the pitchers to tell them what to pitch. Three out of four times I'm right."
Even after the full life he has lived, Hesston continues to hold a special place in his heart.
"I left Hesston College but it still remains my second home in my priority of thinking," he wrote. "None of the other schools compared to the influence that Hesston had on my life, though I value them all."
In the end, Oswald's philosophy of sports can be boiled down to a simple mantra.
"The concept of sports is not just 'Sports to win,' it's 'Sports to live,'" Oswald said. "A total life, recreation, appreciation, value of being together, of teamwork."