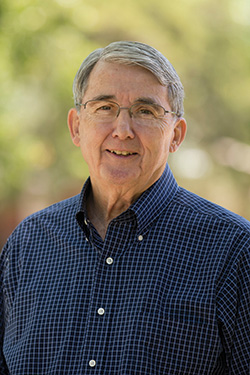 An oasis is a sweet place, whether traveling geographically or intellectually. Rarely is a college referred to as an oasis. Yet, Hesston College is just that. Since August 1, Sue and I have experienced Hesston College in this way. Based on our experiences at many higher education institutions, we have found our time at Hesston pleasant. We often say, "We're happy as a Lark."
Hesston College is a lush oasis in the midst of the Kansas prairie. The hundreds of trees, unnumbered species of plants, blooming flowers, perpetual lawns, wide walks and benches for rest are not only a physical oasis but also a symbol of the Hesston Experience. Hesston is a place of study, contemplation, renewal, redirection and provisioning for countless past and present students. As the trees protect and shade, the college protects students as their beliefs are challenged and reinforced by new learnings, they assimilate new truths, are pushed to new levels and relate to others unlike themselves.
Given the right environment and nurture, students, like blooming flowers, radiate. As they graduate and go on, they travel the paths of life just as they transverse the wide sidewalks of campus. Whether a late teen, early twenty, mature student or a couple in their late seventies serving as interim president, Hesston College is a community of learned teachers and nurturing staff dedicated to accepting student travelers as they arrive and preparing them for the next portion of life's journey.
Yes, Hesston is an academic community where students are pushed to achieve higher levels of performance. However, in comparison to others, Hesston College allocates more resources to student care, monitoring progress and community health and cohesion than most. Just as the beauty of our campus shows care and commitment, so too is there an equal commitment to making the Hesston Experience the difference in students' lives that will serve them for a lifetime.
Just as we have been welcomed warmly, we too share warmly and care for all students, faculty, staff and those living in the community. We hope our time here has contributed in a small way to this academic oasis continuing for years to come. As our time at Hesston approaches an end, we express our gratitude to all who have invited, served and allowed us to contribute in a small way.