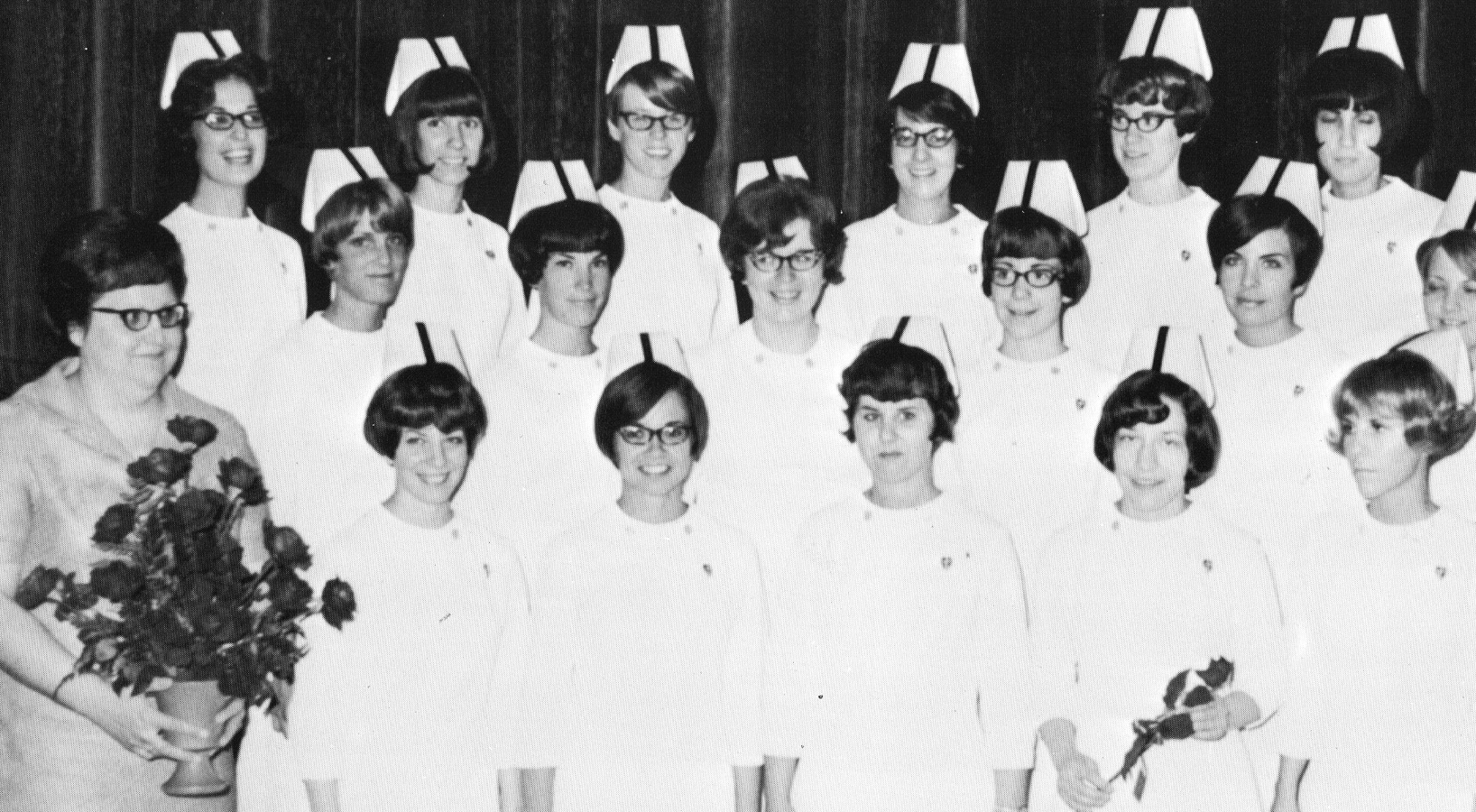 by Mackenzie Miller '18
The Hesston College nursing program has reached a milestone, and it is no small feat.
On May 13, the 50th graduating class of the associate degree nursing (ADN) program will conduct its pinning ceremony and head out into the medical field.
The 2017 graduating class consists of 53 nursing students–36 are ADN students and 17 are bachelors of science in nursing (BSN) students.
The 17 BSN students are the first class of baccalaureate nurses to graduate from Hesston College. Also a new Hesston College milestone.
However, as these 53 students graduate in May, it is not without acknowledging the changes Hesston College has seen throughout these fifty classes.
Beginning in 1945 and continuing into 2017, the nursing training at Hesston College has constantly been evolving. In creating the program, administrators saw the nursing profession as an "excellent opportunity for service" and each year provides another chance to improve on what has already begun.
In fact, the nursing program was a priority before it was even possible on the Hesston College campus. The curriculum was built alongside two Mennonite hospitals and nursing hospitals–Mennonite Hospital and School of Nursing, La Junta, Colo., and Bethel Deaconess Hospital and School of Nursing in Newton.
Later on, when operating a nursing program extension out of the state of Kansas became too problematic, students were sent to Kansas City, Mo., to complete their degree while Hesston continued to work towards a degree program for the campus.
It was not until 1964 that the state of Kansas approved an associate of arts nursing program, and the first class was launched with 21 students in the fall of 1966. Since then, class sizes have amassed to a capacity of 56.
In 2015, Hesston introduced the BSN program and has continued to grow the bachelor's degree program since that time, adding the RN to BSN program in spring 2017, and getting ready to launch the LPN to BSN component in fall 2017.
Through it all, numbers continue to grow and the demands of the health care/nursing industry are more present than ever.
Yet, Brooke Hershberger '18 (Goshen, Ind.), a junior in the nursing program and among the first students who will spend four undergraduate years at Hesston, notes Hesston College's constant attention to each student.
"They (instructors) know us by name," says Hershberger. "They make it a point to get to know us, not just teach us and get us out of there."
One woman who has witnessed many of Hesston College's nursing program transformations is Bonnie (Kauffman) Ac65, '67 Sowers. After spending one year at Hesston, Sowers earned her BSN from Goshen (Ind.) College, then returned to Hesston to teach nursing in 1970. Since 1980 she has held the role of Nursing Education Director, and recently announced that she will step down on June 30.
The buildings have changed and the degrees have adapted to the times, but Sowers says, "This quality and culture has been consistent, even as faculty/staff change and students change."
And what causes this strong foundation?
Sowers added that the "close relationships, emphasis on holistic care for the individual student and for the patients' body, mind, and spirit makes the program unique."
One student who will graduate with this milestone class is Alma Luevano '17 (Wichita, Kan.). After hearing about the Hesston College nursing program from two former graduates, Luevano chose Hesston to "Start Here." And she could not feel better about her decision.
"I feel very blessed; my experience has been a very positive one," Luevano says. "I'm following my dreams of becoming a nurse all while making lifelong friendships."
But Luevano, as well as many other graduating students, will not stop here. In the spirit of Hesston College's tagline: "Start Here, Go Everywhere," Luevano hopes to work in a pediatric hospital, or labor and delivery unit.
After her graduation in 2018, Hershberger hopes to go on to begin master's and eventual doctoral studies.
"It is incredible how much they (Hesston College) have given us," says Hershberger. "The learning has made me want to get an advanced degree and continue my learning."
And, according to Sowers, the need for nursing will not go away.
"The future of nursing looks bright, and nursing professionals will certainly remain central to the ongoing delivery of high quality, person-centered healthcare," she says.
And so, with all this hard work and passion of the past and present Hesston College nursing department, Hesston College has much to celebrate with the historic milestone this spring.
Here's to the 50th graduating class of the Hesston College Nursing program.