An excited murmur erupted from the Hesston College faculty and staff the moment the Presidential Search Committee announced the name of its candidate of choice for the college's ninth president.
Many in the crowd were familiar with Dr. Joseph Manickam '87 from his days as a student or his five years as associate director of Admissions.
The excited buzz continued through the college's constituency as the news spread via social media, and words of affirmation arrived from those who know him.
That was October 28, 2016, and the excitement hasn't dissipated.
During a meeting with faculty and staff as part of his campus visit just a couple of weeks after the announcement of his candidacy, Dr. Manickam remarked candidly, "You can call me Joe." A simple statement that encompasses the community atmosphere and personality.
Although he won't assume office until July 1, Dr. Manickam's….Joe's reputation precedes him, and the Hesston College community is looking forward to his leadership and his presence.
Likewise, Joe is anticipating the new endeavor that awaits him.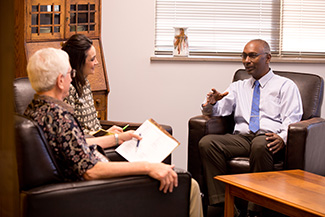 "There are a few factors that drew me to the role of Hesston College President," said Manickam. "Number one, the strength of the college as it stands today – strong academics, the strength of the faculty and staff and the strength of the administrative team that I get to work with. The second part is it's a two-year Anabaptist-Mennonite educational institution. I strongly believe that such institutions are needed in our world today outside the Mennonite church. There's a hunger for a different perspective on Christianity, and a school like this guides students toward that direction – toward being global citizens who can envision a world that is different from what we often find on our television sets."
Manickam's global perspective is extensive and well-refined as his work and life have taken him across the world and into different cultures and traditions. That perspective will be a strong guide for his service to Hesston College.
Born in Chiang Mai, Thailand, to Indian missionaries sent by the Church of South India, Manickam grew up in a family deeply committed to seeing God's love translated into the local context, crossing social barriers of many forms. His high school years began at a boarding school in South India, and he completed high school at Hoover High School in North Canton, Ohio, earning a certificate in the automobile mechanics program.
As a Hesston College student majoring in automotive technology, higher education administrator wasn't exactly on Manickam's radar. But that's the beauty of a community that helps students realize their strengths, passions and interests.
Manickam says even more than a degree in automotive tech, what was most valuable in his Hesston Experience was a spiritual growth.
"What I found at Hesston was the Anabaptist heritage, the story, the theology – it was perplexing oftentimes, but I came to embrace it," said Manickam. "At first I didn't fully understand what it meant, but as I moved beyond Hesston and experienced the world in different ways, it made a lot more sense, and today it makes complete sense."
After Hesston, Manickam worked in the automotive field for a year. In that time he realized that even though he enjoyed the field and working on cars – and he still does and considers himself a "grease monkey" – it wasn't what he wanted to do for the rest of his life.
"Going into the shop for eight to 10 hours a day, working on cars, turning wrenches, not engaging with people, I found was sapping my energy," said Manickam.
That realization led him back to school to complete a bachelor's degree in radio and television communication from Goshen (Ind.) College in 1991. He completed his degree shortly after the end of the first Iraq war, in which many media outlets had invested heavily in covering only to have it last three months. Because many companies had not recouped their investments, the industry was fraught with layoffs and hiring freezes.
Struggling to find work in his field, Manickam returned to Hesston College to serve as an admissions counselor.
"Coming back to work at Hesston was kind of a continuation of my time as a student in that then, my instructor Phil Zehr '76 told me, 'Joe, you need to go on for further education,'" said Manickam. "When I was working here, [former president] Howard Keim '72, who was at that point on faculty, said, 'Joe, you need to go on and get further education and pursue some of these things that interest you.'"
Those words of encouragement and the foundation of peace work that had been laid at Hesston led Manickam to graduate studies and then a Ph.D. in intercultural studies from Fuller Theological Seminary (Pasadena, Calif.).
"I wanted to work at the construct of race and try to bring some new perspectives to the church in that area," said Manickam.
During that same time, from 1996 to 2005, he worked as associate director for the Center for Anabaptist Leadership, which exposed him to urban ministries with his work centering on community organizing with local congregations and peace education for church leaders.
In 2005, before completing his doctorate in 2007, Manickam moved into international development and peace work when he went to work for Mennonite Central Committee's (MCC) International Program where he served as director of the Asia Program and director of the Central-Southern and Northeast Asia Program with MCC-Canada. In 2015 he left MCC and joined Payap University (Chiang Mai, Thailand) as director of the Institute of Religion, Culture and Peace and faculty for peace studies.
"Coming back to Hesston now, I think in a certain way it's full circle, but yet I think it's not a full circle yet, in that I'm merely here now to talk about the success and to exemplify the success of what Hesston does," said Manickam. "I think it's very difficult to realize the power of what it is we're doing here until it's tested in the world. Obviously, for me personally, there has been an excitement in doing that testing. My hope is that we can find ways to guide our students AND our faculty and staff to more aggressively test it instead of just kind of keeping it among ourselves. Now more than ever the world is longing for a non-coercive Christian witness, and we Mennonites/Anabaptists must not remain silent to this call."