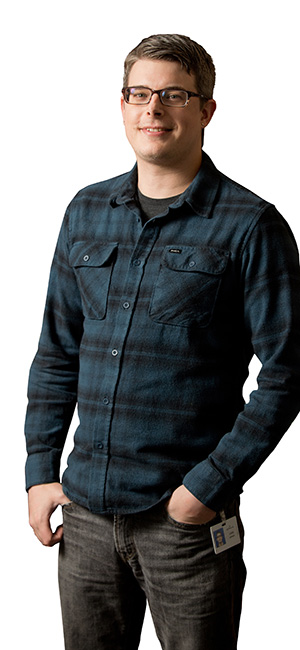 MAJOR: Illustration
CAREER: Senior Multimedia Designer
Starting here
I grew up outside Bridgewater, S.D. and went to high school at Freeman (S.D.) Academy. I led a pretty typical, small-town life. Art and music always came pretty naturally to me, but I'd never considered either of them as a possible career.
Coming out of high school, I wasn't sure what I wanted to do or prepare for, career-wise. Hesston seemed like a great place to try a range of studies in an effort to figure that out, and I really liked the facilities and small town environment.
Discovering a path
I took a variety of classes thinking of going into computer programming or pre-med; I discovered I didn't have a passion for either of those areas. I'd always enjoyed art, so I started taking some art and design classes and found that passion I'd been missing. Just before graduating I found out about the Kansas City Art Institute and, with a lot of help from my art instructor, Lois Misegadis, put together a portfolio and application barely in time for the submission deadline. I graduated from there in 2004 with a B.F.A. in illustration.
Doing what he loves
In 2005 I started working at Hallmark Cards headquarters on-call as a Creative Assistant, making mock-ups. I was subsequently hired on and held various positions including Technical Artist and Production Designer in the 3D Marketing Design Studio, designing product.
In 2010 I started working in the newly formed Hallmark Sound Studio as a music composer, sound designer and audio engineer. Currently I'm a Senior Multimedia Designer, creating original music and sound design for videos, sound cards, ornaments and other products. It's an interesting and fun job – I've gotten to write music for TV commercials and for clients like Disney, have direct recording sessions where I listen to the voice of Bugs Bunny over the phone and even be in a Hallmark web series called "Ear Buds," which is in no way silly or embarrassing…
I've also done freelance work for AMC Theaters. I created a cinematic music score for a pre-show animation that I got to hear while at a movie, which was pretty cool, though I'm sure confusing to the other people in the theater as to why some guy was so overly excited about AMC's loyalty program.
Considering that I can trace the course of my career, which I love, back to the decision to take those art classes at Hesston – I can't even say how grateful I am that those seeds were planted.