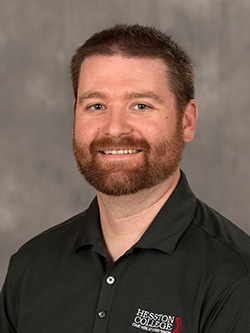 The Hesston College community joined a far-flung network of friends and family of Russ Neufeld '97 in celebrating his life and mourning his death. Russ served as director of Information Technology and was well loved on campus. He died January 21, after a long battle with cancer.
"We join Russ's extensive community of friends and family in mourning," commented Vice President of Finance and Auxiliary Services Mark Landes, Neufeld's supervisor, following his death. "We also celebrate a tremendous person and a life well lived. It doesn't feel like a stretch to say Russ was one of the most well-liked people working at Hesston College. People were drawn to his engaging personality and broad worldview. Russ joined the college's IT department in June 2010 and was promoted to IT director in April 2014. He will be remembered among the Hesston College community for his caring and calm demeanor, his out-of-the-box thinking and his extensive knowledge. He knew a lot about a lot. Russ had a significant and positive impact during his short time here, and will leave a wonderful legacy behind. We will miss him greatly."
Neufeld's memorial service was Jan. 27, at Hesston Mennonite Church on the Hesston College campus.
A Facebook post Neufeld made on Jan. 11, in preparation for his Jan. 16 birthday, exemplifies Russ's positive attitude and big heart:
"So thanks very much for your support in the myriad ways you've shown it. For my birthday, I'd like to steal and idea from a friend and ask you to take all this love you have and share it. It only multiplies and there are so many who could use it. Whether it's just a random act of kindness, or helping at your local homeless kitchen/shelter, or repairing broken relationships, just spread the love folks – it's the only thing in this world that endures. We've received more than we could have imagined – let's continue to spread that a little wider."
Surviving Russ are his wife, Kendra (Duerksen) '97, and children, Ethan and Natalie.