Drew Gerber, Tim Penner and Joe Biggerstaff at Harper Industries
At Harper Industries, innovation is led by listening
At the intersection of Highway 2 and East 14th in Harper, Kan., it might be easy to miss the global giant down the street. But for 54 years, just east of town, there has been a small office growing big dreams into solutions. Harper Industries has been guided by the hands of many Hesston graduates and its future continues to shine with the Lark spirit.
In 1968, Hesston alum Dewey Hostetler Ac46 opened the doors at DewEze. The first product available was the Hay MoBale, a machine that would meet the company's goal: move hay better. As the ever-changing needs of agriculture brought new challenges, Hostetler kept up through adaptation and innovation.
The Bale Bed, Harper's pinnacle product, was invented in partnership with Spike Hostetler Ac54 '56, Dewey's cousin. As hay bales became round and much larger, the Hostetlers created a hydraulic powered hoist that made moving hay a one person job. The Bale Bed has remained Harper's most successful product and has kept in step with the changing needs of agriculture with key improvements over time.
In 1980, another Hesston alum took the reins at DewEze. During Howard Hershberger's Ac46 '48 time, DewEze made agriculture a little easier with inventions like the Bale Van and a self-leveling mower. Over the following years, expansion and a broad vision led to the diversified manufacturing firm of today: Harper Industries. While the company's roots remain in agriculture, their goal aims to create solutions wherever the call leads.
This rich history of meeting the needs of those they serve comes from a core value: listening. This approach also keeps Harper closely attuned to where the future is headed. "Product management is saying, 'What do you need?'" Tim Penner, president of Harper and Hesston College board member, says. "How can we provide a way to make hard jobs easier?"
Today, from the offices to the production floor, Hesston alumni remain a strong part of the Harper Industries team. Co-owner Faith (Hershberger) '74 Penner is not only a Hesston alum and married to Tim Penner, but watched her dad—Howard Hershberger—build the company in the 1980s. Faith is now a member of the leadership team.
The Hesston College imprint is strong throughout the office. Other Hesston alumni have arrived through a close relationship built through an internship program. "We've had probably close to 15 interns since starting back in 1998. We haven't had one every year, but nearly every year," says Tim Penner.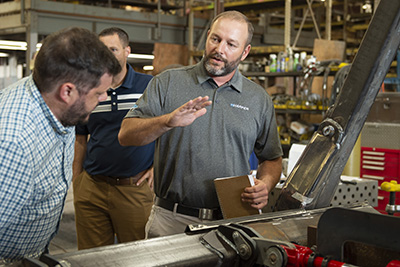 Drew Gerber '04, vice president of product and marketing and a Harper native, calls Harper Industries home. After attending Hesston for agricultural business and later earning his bachelor's degree at Kansas State, Gerber found his way back. "Harper is my home. It's where I was born," Gerber said. When given the opportunity to join the ranks at Harper, he jumped at the chance.
What keeps Hesston grads coming back to this hidden gem in small town Kansas? For starters, shared values.
Like Harper, Hesston College prioritizes relationships and celebrates the strength that comes from a collaborative approach. This fall, Hesston College's new School of Engineering will welcome in their first cohort into it's bachelor's degree program. "What a Hesston College experience is going to help you realize is, 'How do you partner with someone?'" says Johann Reimer, director of engineering education.
Engineering solutions to agricultural problems takes the entire team. Each team member brings their own lens. More than that, the integration of these modalities is key to achieving true success. "It's extremely important that the engineers come out and spend some time in the field," Gerber says. "I can't communicate well enough to replicate what they see firsthand."
For Harper engineers, it is not just about drafting out a few specs for the next big thing. Delivering the best solution for a client involves a holistic view. The question that Joe Biggerstaff, vice president of engineering, asks himself when working with a client is, "What keeps them up at night? What costs them money and what influences whether they get their next bid?"
As technology advances, the needs of industry expand. When engineering faculty at Hesston College began to talk about how to best serve that future through a bachelor's degree-granting program, Biggerstaff was at the table as a member of the program's advisory board. The message from Biggerstaff and others was clear: mechatronics was the path ahead.
Mechatronics is a combination of mechanical, electrical and computer engineering. Graduates from Hesston's baccalaureate program will receive the kind of dynamic education that businesses like Harper are looking for. "You never know where you will end up," Biggerstaff says. "And you never know how the world is going to evolve. So you need that basic skillset that will equip you to go and do all of these jobs."
As the world heads toward vehicle electrification, there is a call to find answers in agriculture and turf management as well. The solution is not as simple as switching a gasoline engine for an electric motor. The solution is not captured in one move. It is a collaboration of multiple disciplines. "Customers are needing solutions and we can't use traditional means. So how will we get this done?" Biggerstaff says.
Who best to weave together these modalities? Graduates equipped with the skills of adaptation.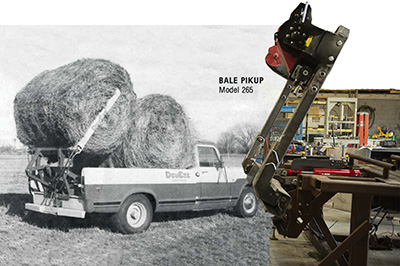 Hesston College student Tobie Plett '20, '23 was an intern with Harper Industries for 15 months. During his time at Harper he was given the opportunity to be a part of innovative projects and more importantly develop a strong aptitude for adaptation. At Harper Industries, Tobie learned "not to quit, to not be afraid and to be sure I had a complete explanation for every conclusion I reached." Plett added, "It was one of the best lessons I learned and it was in the very first task I was given."
Future graduates like Plett will surely help meet the needs in years to come. Yet, as the nation heads into further shortages of skilled workers and the continuous need for evolving technical skills, adapting educational options is paramount. "I want a person who's well-rounded," Penner said, "I'm not necessarily just interested in a purely mechanical person or a purely mathematical person. I want them to understand the totality of what's going on."
In order to create a world that continues to drive innovation and thrive in the face of challenge, the need for collaboration between education and industry has never been more important. The relationships that exist between Harper and Hesston have been present since Dewey Hostetler first broke ground just outside that small Kansas town. Today, the partnership continues to serve eager minds and provide a vision for the path forward.