Softball goes deep in Division 2 tournament
Under the leadership of interm head coach Andrew Sharp '99, the Hesston Larks softball team made a run deep into the KJCCC Division 2 Tournament in Topeka, Kan., May 14 to 16.
The Larks faced elimination from the tournament after losing to top-seeded Highland Community College in the opening round on Saturday, May 14. The Larks stared down nationally ranked Johnson County Community College, winning 3-2 in a closely contested 10-inning game. Starting pitcher Hannah Williams went the distance on the mound for the Larks. This was a season high for Williams in innings pitched and her best overall performance in the most pivotal situation for this team all year. Hesston and JCCC got on the scoreboard early with two runs each in the first inning. Both pitchers settled down after that, and gave nothing up for the next seven straight frames.
Sophomore infielder Candace Durney came up to bat in the 10th with one out and nobody on, and hit a first pitch walk-off home run over the center field fence to send Hesston College into the next round of the tournament.
Play resumed on Monday, May 16 as Hesston faced a rematch with #1 seed Highland Community College. The Larks offense came to life through the bats of freshman shortstop Madison Michalek-Rosales and freshman catcher Madyson McCage. Rosales had five runs batted in off a single and home run in the 2nd inning, and McCage was able to add an additional run off a double in the 5th. Larks pitching shut down the Scotties from the 5th inning on and ended up winning 6-4.
The Larks lost in the championship game of the tournament, falling to Kansas City Kansas Community College 7-0. The Larks finished the season with a record of 22-30, with 13 wins in conference play.
Women's basketball players make history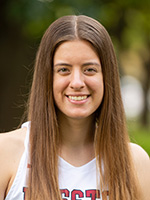 Sydney Bontrager
, a forward from Milford, Neb., set the all-time career rebounds record at Hesston college with 559 in her first two seasons with the Larks.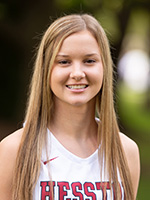 Loribeth Miller
, a guard from Chouteau, Okla., connected on 50 three point shots during the 2021-22 basketball season, putting her third all time in Hesston College history for three point baskets made in a single season.
Coaching updates
Softball
Abby Young has been named the new softball head coach at Hesston College. Young comes from Iowa Western Community College where she has been an assistant coach since 2021. She started her collegiate career at Black Hawk College, earning NJCAA Academic All-American and Arrowhead Academic All-Conference honors and completed an associate of science degree. Young then played at William Penn University where she earned multiple honors, including NFCA All-American Scholar Athlete, HAAC All-Conference Athlete and two-time HAAC player of the week while completing her bachelor's degree in exercise science. Young continued at WPU, earning her master's degree in sports management while acting as graduate assistant and JV head coach for the Statesmen softball team.
"We are excited to welcome Abby Young to the Hesston College athletic staff," said Bryan Kerr, Hesston College athletic director. "She has excelled as a student, as a player and as an assistant coach. We look forward to the leadership she will bring to the Larks softball program."
The Lark softball team anticipates returning at least nine athletes and will look to build on the progress made this season.
Men's and women's soccer
Thomas Gaskell was named interim head coach for men's soccer in May of 2022, and will coach both the men's and women's teams this fall. He looks to improve on the men's team he inherited, which went 6-9-2 during the 2021 season.
Volleyball
Kassidy Pflughoeft had the interim tag removed from her title in November of 2021 and will go into the 2022-23 season as the head coach for the Hesston Larks volleyball team. When asked about the 2022-23 season, Pflughoeft said, "We came in last year with not as many girls as we needed and suffered several injury setbacks. This next year is looking up. We've already signed nine players for the upcoming season. I don't see any reason why we won't be competing this next season. It's exciting to have a bigger team and to see what these players are capable of bringing to Hesston's volleyball program."