Criminal and restorative justice added as program of study
Criminal and restorative justice will join Hesston College's list of more than 50 programs of study for transfer starting with the 2015-16 academic year. The program is designed to fulfill the first two years of a four-year degree in either criminal justice or restorative justice career fields. Course work will focus on the sociology of the fields – the culture, history and philosophy of careers. Students will also have opportunities to observe and have hands-on experiences with professionals working in their areas of interest.
Students chosen as Larks of the Year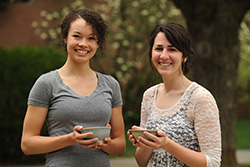 Makayla Ladwig '15 (Wichita, Kan.) and Elisabeth Wilder '15 (Hesston), received the Lark of the Year Award for demonstrating excellence in academics, leadership and service at the Larkfest Awards ceremony April 16. Award nominees were chosen based on involvement in leadership and service opportunities on campus and grade point average. Ladwig, a third-year nursing student, started work as an emergency room nurse at Wesley Medical Center (Wichita) following graduation. While at Hesston, she was a resident assistant and member of the women's basketball team, Inclusion and Diversity Council and Gospel Choir. Wilder was a resident assistant and member of the women's soccer team, Bills and Normas, Chorale and Campus Stewardship Council. She completed the Disaster Management Program and will attend Eastern Mennonite University (Harrisonburg, Va.) in the fall.
Community read to focus on hope and change despite pain
Etched in Sand by Regina Calcaterra has been chosen as the fall 2015 community read as part of the First-year Experience program. The theme will be "Be the Change: Caring that Matters." The New York Times bestseller is the author's memoir tracing her and her four siblings' childhood experiences with abandonment, physical abuse and fear of the foster system that was put in place to protect them. The book's theme and content will be the focal point of discussions, presentations, service opportunities, chapels and forums throughout the year. Individuals and groups are invited to participate in all activities and presentations or read the book along with the Hesston College community. Calcaterra will speak on campus Oct. 5.