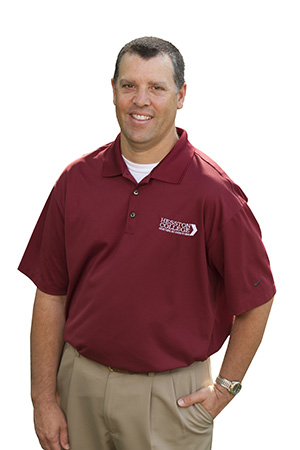 MAJOR: Communications
CAREER: Hesston College Assistant Director of Admissions and non-traditional student recruiter
A different kind of Nursing professional
At least 90 percent of the students I work with choose Hesston for the nursing program. I've never considered becoming a nurse, but 14 years of working with the Hesston Nursing program and being married to a nurse practitioner [Karla (Klassen) Hostetler, former clinical instructor], have taught me a lot about the nursing industry, or at least what it takes to get into a nursing program.
Go everywhere…
As a student at Hesston and after I graduated, I worked for King Construction Company, a bridge construction company. I later earned a bachelor's degree in communications with an emphasis in radio and television production from Wichita (Kan.) State University. While at WSU, I was a cameraman for the live evening news at the local NBC affiliate. I realized that live TV news wasn't what I was looking for as a career so I accepted a position as an assistant golf professional at the Hesston Golf Park.
…come back
I spent eight years at the Golf Park, as a club professional and was working on my PGA Card to become a full member of the PGA of America when I began to get burned out with the long hours. While giving a golf lesson to Clark Roth '82, then Vice President of Admissions, he said he had a position I might be good at. I eventually took him up on the offer, and I've been at Hesston since the summer of 2001.
I enjoy teaching and talking to people. It was my favorite part of working at the Golf Park, and it's something I am also able to do here. I "teach" people about Hesston and meet new people all the time.
A changing program
When I came back to Hesston, the Nursing program was capped at 36 students per class. The events of 9/11 slowed the general aviation industry, which has a large Wichita market, and quite a few aircraft industry employees began looking at nursing as a way to earn a similar income with two years of school. As the demand for nurses continued to grow, we were allowed to increase the number of students to 48 per class and upgrade the on-campus labs. Even with a higher cap, we had waiting lists of 25 to 40 people. A few years later, the maximum increased to where it is today – 56 students. The program's high demand allowed us to move from a first-come-first-served acceptance policy to one with an application deadline, and we accept the best, most qualified students from the applicant pool. Our students and faculty are the best of the best; that's why the program continues to thrive.