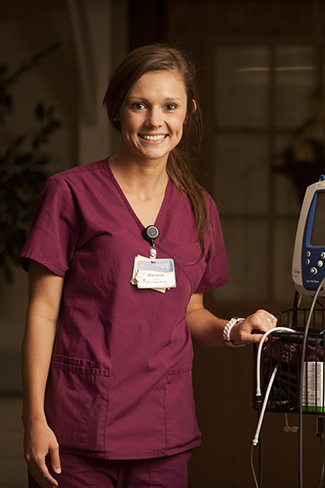 It was a psychology class rather than nursing clinicals that convinced Marissa (Vermillion) '13 Galyon her passion was in working with geriatric populations. In fact, much of Galyon's journey toward accepting a role as a registered nurse at the Schowalter Villa retirement community (Hesston) was not immediately clear to her. Rather, hers was a journey of discovery and trust.
"Nursing was not the first thing I felt called to do," Galyon said. "When I entered the nursing program, I wasn't confident I could make it through or that it was a path I should pursue."
Recruited to the women's basketball team, Galyon initially chose Hesston Colelge for athletics. Her professional path was more clouded.
Galyon's older brother has cystic fibrosis, and because of his necessary treatments and procedures, she grew up around health care. She noted that watching him overcome his obstacles with the help of caring doctors and nurses sparked her interest in the health care industry. Yet she was hesitant to answer the call.
"I wanted to quit the nursing program several times during my first year," said Galyon, who opted for Hesston's three-year nursing track in order to balance the demands of being a student athlete. "Bonnie (Sowers) was my advisor, and she took time to sit and talk with me and encourage me. She really opened my eyes to everything nursing entails. It was wonderful to have such love and support."
Through clinicals, Galyon recognized her calling as a nurse was not in a hospital or clinic setting. It was in interviewing residents at Schowalter Villa about their life experiences through Kevin Wilder's Sociology of Families class that she found her professional calling.
"I've always enjoyed being around elderly people – hearing their stories and learning from their wisdom – but spending intentional time with them during psychology classes led me to grow fonder and fonder of them and gave me a desire to work with them as a career," said Galyon.
In her role on the North Meadows Unit at Schowalter Villa, Galyon is careful to not get caught up in what can seem like overwhelming amounts of paperwork and contacts to physicians and family members, but to be an active presence on the floor by answering call lights rather than relying fully on aides to be the first point of contact.
"It's easy to get distracted by work that doesn't require face-to-face contact with the residents," said Galyon. "I have great compassion and truly love and care about people. Staying active on the floor helps me build better relationships with residents, their families and coworkers. If Hesston College taught me anything, it's the importance of those personal interactions."
It was relationships, after all, that fueled Galyon's early success, and it's relationships that sustain her work.
"I've been doing this work for two years, but I still feel like I'm learning and doing new things every day," she said. "I feel good about what I'm doing, and I want to just continue to get better."