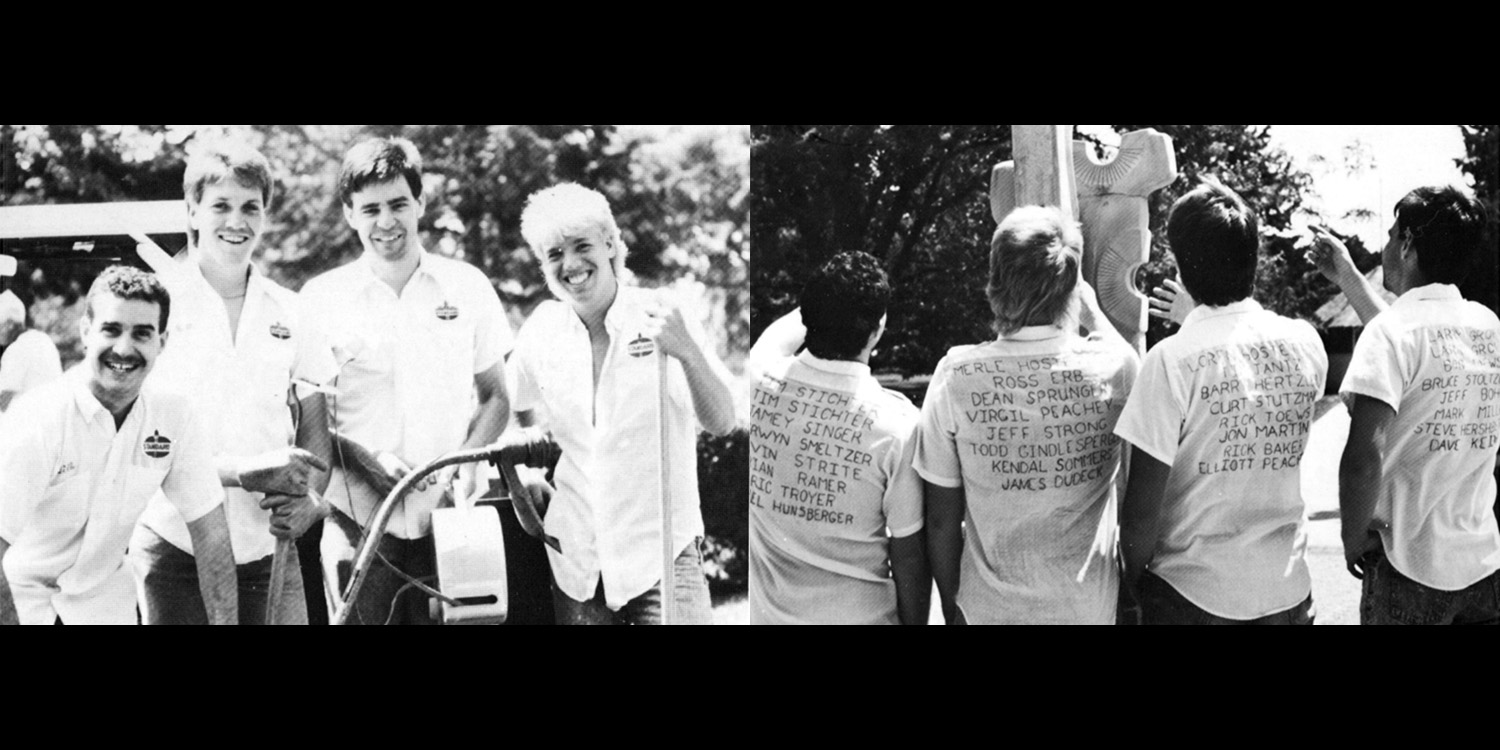 by Gary Oyer '81, director of Media and Instructional Technology Services, communication instructor, archive manager
An embroidered 1912 Hesston Academy pillowcase, the "coat of arms" from the 1920s, a 1940s Hesston Bible School stuffed dog and President Milo Kauffman's Ac22, '26 wedding suit are among the numerous artifacts stored in the Hesston College Archives.
Each artifact has a story that contributes to the larger Hesston College narrative. But the story contained in the archives is far from complete.
Items such as the "token" picture of Christ praying that hung in the chapel for many years has not been located. The "Bill" gas station shirts that launched the standing tradition of the "The Bills" in the 1980's are also missing in action.
Someone in the college's wide constituency knows what happened to these and other significant items. We would be excited to include them as part of the college's history and give them a home in the archives.
By collecting archive material the college hopes to promote awareness and study of Hesston College's history. In addition to remembering history, the archives help organize the college's historical paper and electronic records, provide research assistance to students, alumni and the community and administer a records retention schedule for academic departments and administrative offices.
Jim Mininger Ac61, former Academic Dean and history professor, began the process of collecting and organizing the archives in the 1970's. Hesston's archive material was arranged in 23 subject areas including administrative, legal and faculty sections.
When Mary Miller Library was renovated in 2003, the archives were moved from the Alliman Administration Center to the library basement in Smith Center. In preparation for the college's centennial celebration in 2009, Sandi Richards, then the college's archivist, organized and catalogued the new additions to the archives. John Sharp '73, history and Bible and ministry faculty member, wrote the book A School on the Prairie: A Centenial History of Hesston College, 1909-2009 to commemorate the college's history.
If you have pieces of Hesston College memorabilia or historical artifacts that you would like to donate to the archives, please contact Gary Oyer at garyo@hesston.edu or 620-327-8243. Likewise, the archives are available for viewing anytime you are on campus.
Copies of yearbooks from 1920 through 2014 are also available for purchase for $10 from Gary Oyer. To order a yearbook email garyo@hesston.edu or call 620-327-8243. Additional yearbook contributions to the archives are not currently needed.
For more archive information, visit the archive page under the Mary Miller Library at hesston.edu.