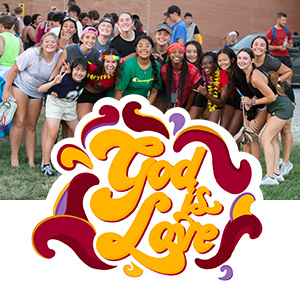 August
2022-23 theme verse
7Beloved, let us love one another, because love is from God; everyone who loves is born of God and knows God. 8Whoever does not love does not know God, for God is love.
Opening Weekend
Students returned to campus with a call to love based on this year's theme verse.
School of Engineering
This brand-new, four-year bachelor's degree program moved into its new home in Friesen Center and also welcomed its first electrical engineering professor.
Kauffman Court Apartments
Dorming juniors and seniors arrived to the option of living in new apartments equipped with a kitchen and other common areas.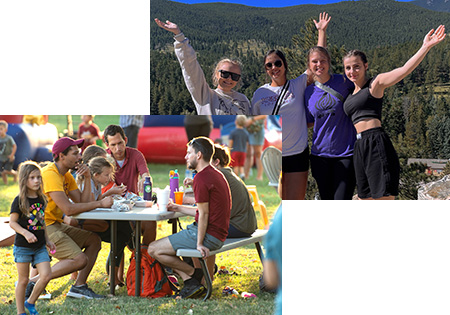 September
Homecoming 2022
Homecoming 2022 kicked off with a celebration of history and future plans for the School of Management and the School of Engineering, the two newest bachelor's degree offerings.
Vanya and Sonia and Masha and Spike
This hilarious comedy was the first theatre production of the year.
Business Colorado Trip
The junior business program students stayed at the brand new Vib Hotel by Best Western in Denver, an operation built and owned by Hesston College supporters Marjorie and Preston Hofer. The Hofers' son Peyton also provided a tour and presentation about managing their family business. Jason '04 and Danielle Rupp invited the cohort to one of their Jimmy John's locations and shared their experience of owning and operating several franchises. Steve Stutzman '83 and Anita Miller also welcomed students into their home, sharing life experiences and advice to these future business leaders.
photo courtesy Mari Graber
October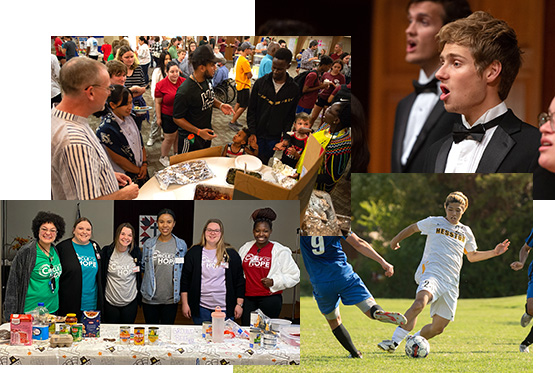 Home Sweet Hesston
Hesston College hosted the kick-off events for this community-wide homecoming, including a food truck rally, yard games and community pep rally, and also hosted the fourth annual disc golf tournament.
Cultures Fair
The community had a taste of global flavor at this annual event made possible by the contributions of international students from 18-plus countries including Myanmar, Albania and Dominican Republic.
Bel Canto Singers fall tour
The choir traveled to Colorado, presenting the "God is Love" program. They returned home for their final performance in collaboration with the Moundridge High School Mixed Chorus.
Men's Soccer
This fall marked the team's most successful season in 26 years.
Population Based Nursing Projects
Nursing students worked with local organizations to connect with and gain a deeper understanding of individuals within their populations, and to offer solutions to problems. In Newton, students raised funds and resources for New Hope Shelter, made possible the creation of the positive attitude hopscotch outside Slate Creek Elementary School and offered fun and educational activities to EmberHope Youthville residents. Students also wrote a grant that allowed Bluestem PACE in McPherson to purchase a bladder scanner, and they offered resources to address the mental and nutritional health needs of the Hesston College student body.
Hesston College's economic impact
Kansas Independent College Association released the results of a study that estimates the impact of Hesston College on the statewide economy to be $26.5 million and 208 jobs.
November
Mennonite Central Committee-United Nations trip
Three Hesston College students traveled to New York City to participate in the Mennonite Central Committee United Nations Student Seminar.
Student ADVOCACY
In response to student-voiced concerns about campus safety and culture, Hesston College hired Cozen O'Connor's Institutional Response Group to conduct a comprehensive review of campus Title IX policies and practices.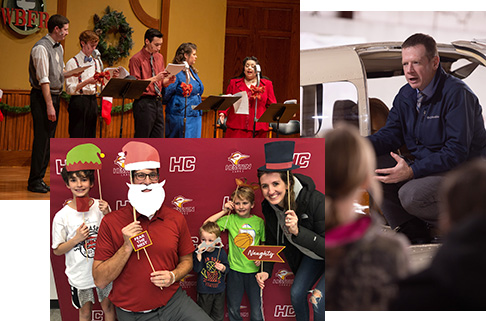 December
Snow Ball
A revamped version of the event formerly known as Feast of Carols, this end-of-semester formal included a nice dinner and hay ride to the Dyck Arboretum of the Plains for a dance, followed by ice skating at Wichita Ice Center.
Pancake Night
Student Life and Fresh Ideas food service gifted the students with late night pancakes to refuel as they studied before finals.
King of Ghana Visit
Hoping to develop an aviation school in Ghana, the king toured campus and the aviation program.
Holly Jolly Community Day
Hesston College participated in this community celebration, hosting basketball games and kid's activities, while an alum offered free haircuts to attendees.
It's a Wonderful Life: the live radio play
Performing Arts presented this beloved American holiday classic as a live 1940s radio broadcast.
Aviation facilitates hands-on learning for youth
Over a three-day period, the School of Aviation hosted approximately 220 sixth graders from Newton's Santa Fe Middle School for a two-hour introduction to aviation course. This included a discussion on basic aerodynamics, aircraft components, principles of navigation and communication, in addition to an opportunity to fly one of the college's training devices.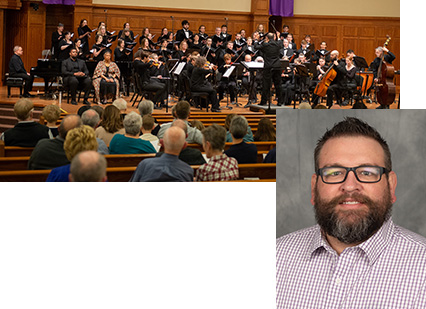 January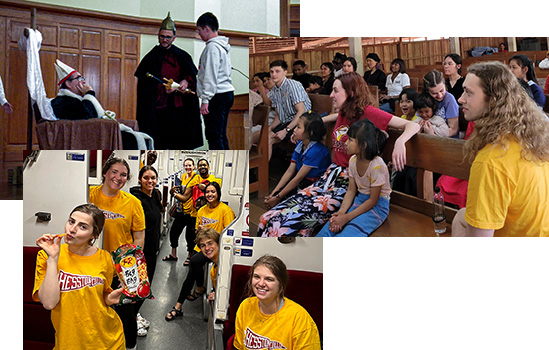 February
Virtual Class Reunions
An easier, travel-free option to reconnect with classmates, more than 100 Hesston alumni from four countries gathered together virtually for the first virtual reunions.
Know Jesus
The Hesston College Bible Department hosted 85 junior high students for this two-day conference, providing a meaningful weekend for youth to grow in their faith. Photo courtesy Joshua Cross
Business trip to Thailand
Junior business students traveled to Thailand for a three-week immersion in global entrepreneurship, focusing on the coffee industry.
March
The Apple Tree
The spring theatre production offered a unique three-plays-in-one structure with all playlets falling under a familiar theme of choice and consequence.
Flag Football
New to Hesston women's athletics, the flag football team participated in their first ever games during a round-robin event hosted on their home field.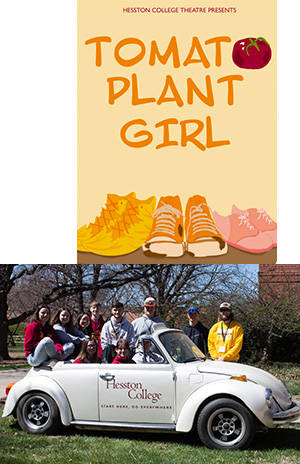 April
Larks Landing Day
Admissions hosted a fun-packed event for admitted students that included a Larks softball game, scavenger hunt, next steps session and fun outdoor activities.
Tomato Plant Girl
The Theatre for Young Audiences program returned, bringing to stage this playful, high-energy performance.