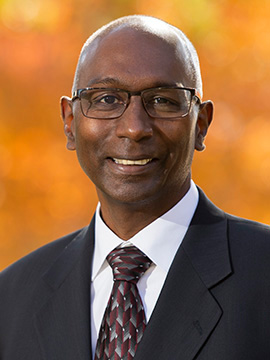 Friends,
The Hesston Experience is a defining piece of Hesston College. As I reflect on the many layers that create this one-of-a-kind experience for our campus, I'm drawn to the acts of service generously offered through the lives of our faculty and staff, students, alumni and friends.
As our vision statement explains so clearly, Hesston College graduates change the world as they serve through their vocations, churches, families and individual commitments to follow Christ. I am so grateful to see our vision be a living testament of who we are as a campus community.
Even before graduation, a heart for service is growing in our students on campus. For example, this is evident in many areas including our nursing and theatre programs. Through the Population-Based Nursing course, students have the opportunity to not only see where other population groups are coming from, but they get to spend time with them, gain a deeper understanding of their situations and offer solutions to help improve their lives. The theatre department is also expanding their capacity for empathy, using their performance skills to raise awareness of injustice in our society and giving back to those in need in our area.
I believe this stirring in our students is due to our incredible faculty and staff laying the foundation for a service mind-set. One group that does this exceptionally well is our campus facilities team. While they prefer to humbly offer their services in the background of our campus hustle and bustle, they lead by example through their joyful service to our students and the entire campus community.
It's no wonder that as our graduates leave campus and start new chapters in their lives, this desire to serve stays with them. Sometimes we see it through alumni giving of their resources to ensure incoming students have the same opportunities to experience Hesston the way they did. Other times we see it through alumni who give up the comforts of home to step into a new culture and way of living to be the hands and feet of Jesus.
These acts of service are a key component to the Hesston Experience and a great example of why the world needs Hesston College. Your kindness to others is changing our world for the better.
Peace to you,
Dr. Joseph A. Manickam '87
President