A desire to serve the campus community is a compelling driver for many alumni who make the choice to become donors. It's because of their generous contributions that the college can offer a transformative experience and monetary support through competitive financial aid.
While giving doesn't look the same for everyone, all of it carries an impact.
Meet the Tyarts – GEM (Giving Every Month) donors
Merily (Mosquera) '00 and Andy Tyart are firm believers in giving back. As someone who did not have the financial means to attend Hesston College on her own, Merily is still grateful for the generosity of previous donors that allowed her to get her nursing degree.
Not long after graduating from Hesston College, Merily was able to visit campus and talk to nursing classes about her experience in oncology. "That was really, for me, an amazing and very rewarding way of being able to also give back," she explains.
While she thought she would continue to give back in this way, she later discovered God had a different plan. Now that she lives on the east coast with her husband and their two children, the desire to give back hasn't changed…it just looks different.
"I may not be able to be there, but [by giving], you're empowering people who are gonna go throughout nationally and internationally to communities where they will bring that experience, and they will bring that service and they will make a difference," says Merily.
Having experienced the kindness and help of others first hand, the Tyarts are eager to share the same loving generosity with others and now give back as GEM donors. Merily says, "I want to be able to be an agent of empowerment and change in somebody else's life, who may otherwise not have the opportunity."
Meet the Oyers – Partner donors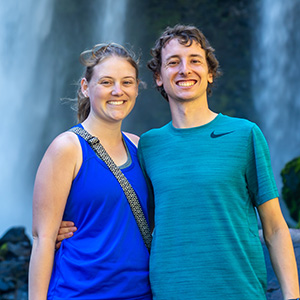 Recent graduates Jared '19 and Jenna (Boller) '20 Oyer have fond memories of their time at Hesston and shortly after graduating, felt a strong desire to give back to the community that had given them so much.
Jenna completed the four-year nursing BSN program and played soccer her first two years at Hesston, while Jared received an associate degree in general studies and was a member of Bel Canto Singers before completing his bachelor's degree at Eastern Mennonite University. To top off these great academic and co-curricular experiences, Hesston College is where Jared and Jenna first met.
Jenna smiled as she reflected on her time at Hesston College. "Hesston was more than just a school for me. It was a community that welcomed me with open arms and helped me grow both academically and personally," she said.
Having received so much from Hesston College, they began their giving journey as GEMs not too long after graduating, donating $25 a month. They say sticking to a budget with a portion specified for charitable giving made this an easy first step. They later met with a member of the advancement team at Hesston who shared the college's vision for the future and the changes that had taken place since the couple graduated. This glimpse of the future got them excited about contributing more, so they increased their giving and became Partners.
Giving at the Partner level is a big commitment not typical of recent graduates who may still have things like student debt in the back of their minds, but Jenna and Jared don't see it that way. "I think if people could see that it's not as daunting of an amount as it sounds, if you're just doing it every month…even $25 a month can still make a difference if many people are a part of that," Jenna explained. The Oyers' generosity is a testament to the impact Hesston College had on their lives. Their giving helps ensure future students will have access to the same, and even better opportunities and experiences than they had.
"Hesston has been a part of my family for generations, and I'm proud to continue that legacy by supporting the college as a donor," Jared added. "I want to give back to the place that gave me so many amazing experiences and lifelong friends."
Photos provided by featured donors.