Best Season in the Books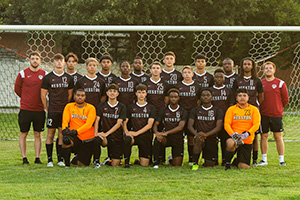 The men's soccer team wrapped up the year with their most successful season in 26 years, finishing with a record of 8-7-1. A true melting of backgrounds, the team was formed by student athletes from Albania, France, Germany, Japan, South Africa and seven U.S. states.
Head coach Dante Texeira had nothing but praise for his team. "The dedication and hard work from all the boys was amazing this season. Multiple guys stepped up and took over roles and positions that they haven't been put in before, and in the end, it paid off with us breaking a 26-year curse," Texeira said. "I couldn't be more proud of all of the guys in the program that helped us to get to this point. Now we'll look to build off of it."
Inaugural Women's Flag Football Season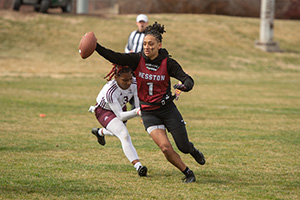 Hesston College's flag football team took the field for the first time March 10 in a round robin tournament where they dominated two of their first three opponents on their home field.
The players represent seven states and several multi-sport athletes including three basketball players, one soccer and basketball player, one soccer only player and one volleyball player.
"I am truly blessed to help grow the women's flag football program here at Hesston College," says head coach Max Switzer. "To be able to be the first head coach and lay down the foundation here is an honor. The women have been working extremely hard throughout the fall and the beginning of this spring getting prepared for the inaugural season. We are excited to see the hard work pay off as we prepare to play in the national tournament in Atlanta, Ga., in the middle of May."
Disc Golf Teams Make it to Nationals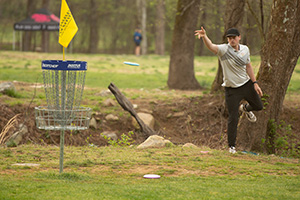 Great performances at the regional championships in March earned both the men's and women's disc golf teams a bid to the national championship in North Carolina.
The men's four-player team competed at the Division I level and ousted several big competitors, finishing 24th overall out of 64 teams.
The women's two-player team also represented Hesston College well in their division.
Practice Field Added
Thanks to generous donors, a new practice field was added west of Oswald baseball field. Made available to teams in April, this grass field measuring 100 by 55 yards offers many benefits. Different teams can now practice at the same time, student athletes' practice schedules are more consistent and overuse of game fields is alleviated.
Sports to utilize the field include flag football, men's and women's soccer and track and field.