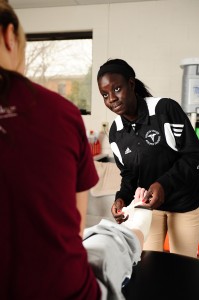 Freshman, member of women's basketball and soccer teams, Erb Hall Renovation Student Committee member
Hometown: Sioux Falls, S.D.
Parents: Athanasus and Betty Ungang
Major: Athletic training
How did you choose Hesston?
I was planning to go to McPherson (Kan.) College because of family connections. I started looking at small Christian colleges in the area. I found Hesston and applied. I had the opportunity to play basketball here, which was a big part of my decision to come. My dad, who is a pastor, had worked with a Mennonite community in Canada, and he was a supporter of my decision to go to a Mennonite school.
What activities were you involved with in high school?
I was a three-sport athlete in high school. I played basketball, soccer and ran track. I was also involved with DECA (Distributive Education Clubs of America), a student business organization and was the state secretary my senior year.
How did you decide on your major?
I had a job-shadowing experience and internship at an orthopedic institute during high school that started my interest in athletic training. My ultimate goal is to be a physical therapist. My experience with athletic training at Hesston has been positive. I spent about an hour each day during the fall semester in the training room with the athletic trainer (Clay Stauffer '99) where I learned to tape ankles and do other basic tasks. I also helped Clay during basketball games. This semester I am taking his Prevention and Care of Athletic Injuries class.
What have been some highlights from your Hesston College experience so far?
I really enjoyed General Psychology class with Dan Harrison last semester. I find myself analyzing my friends from time to time. Making friends and spending time with them has also been a lot of fun. I hang out in second floor Erb central mods often because that is where some of my friends live. We have a lot of fun and a lot of laughs together.
What do you think about Hesston's number two ranking?
At first I was surprised to hear that Hesston was ranked number two. But after a semester on campus, I was able to see that it made sense, and I realized I picked a good college. Everybody here cares about you and wants to make sure you succeed.
Why is the Erb Hall Renovation Project important?
Students live here for nine months out of the year. It is important to have a nice living space and for the college to take care of what we have.