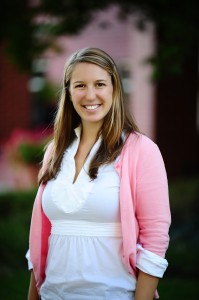 First-grade teacher, Teach for America
Education after Hesston: B.A. in education and Teaching English as a Second Language from Eastern Mennonite University (Harrisonburg, Va.). Working on M.A. in education at North Central University (Prescott, Ariz.)
Tell us about your career.
After graduating from Hesston I went to Guatemala for the Central American Study and Service program, which included three months of intensive language study, family stays and immersion in Central American culture. I stayed in Guatemala for two and a half more months to teach English.
I returned to Michigan to work as a parent liaison in an elementary school, taught English as a Second Language and took classes at Western Michigan University (Kalamazoo).
I then enrolled at the University of Querétaro (central Mexico) for six months because of my love for Spanish.
When I returned to the U.S., I enrolled at Eastern Mennonite University where I earned my degree in Spanish and Teaching English as a Second Language in 2008, while working at Rosetta Stone as an assistant producer. While in Guatemala I came to believe that education is the means for change, so I applied for Teach for America, which works in under-resourced schools. The program helped me get certified to teach. I am in my third year of teaching first grade in Phoenix in a neighborhood where 97 percent of the population are not native English-speakers.
What are your biggest career accomplishments?
The idea that all children deserve an excellent education is what fuels my work. It makes a difference when students have a teacher who cares and is dedicated to academic success. My greatest accomplishment is watching my students leave my classroom with the skills to fulfill their potential.
Which Hesston College instructors had an influence on you?
Lois Misegadis and Maria Day challenged me to be excellent in their classrooms rather than status quo.
What do you think about Hesston's number two ranking?
I was quite surprised to hear that Hesston was named the number 2 two-year college in the country until I looked at the evaluation standards. I was not surprised by the high student engagement score because of the quality professors who care and work to meet students' individual needs. My classes at Hesston were interactive, engaging and rigorous.
How did Hesston College help determine the path your life and career would take?
So much of what I did at Hesston prepared me for studying abroad and working with people in a neighborhood where I am in the minority. My Spanish classes helped me understand the populations I wanted to communicate with and see the difficulties immigrants face. Art classes helped me approach problems in a more creative way.