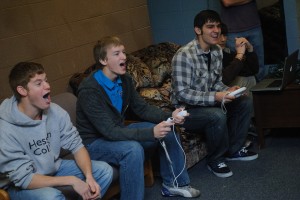 The best way to confuse a Hesston College graduate who attended in the 70s, 80s, or 90s is to say "Old Erb" when talking about Erb Hall central and west wings. In 2000, central and west, the dorm that had been known as "New Erb" for 30 years, lost its title to the newly renovated Erb east. In a matter of months, central and west will look to regain its historical alias as the college renovates the 42-year-old dorms.
Of all the factors that create the Hesston College Experience, dorm life dominates the memories that surface when on-campus students and alumni reminisce. Dorms are where students spend a majority of their time and develop lasting friendships. Study sessions, plans for the next great prank and conversations of life, love and faith are common dorm room themes.
If the rooms in Erb Hall central and west could talk, they would have countless stories to tell. The 92 rooms have been home to Hesston College students for 42 years. Many students have studied at the same desk their parents did some 20 years before. Closets have held four decades of fashion, and the furniture has been moved into more arrangements than can be counted.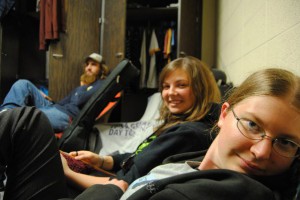 After 42 years, Erb central and west is showing its age. Rusted pipes and worn furniture have left the building in need of a facelift. The windows, roof and bathrooms have all been updated in previous phases of improvement. The dorm rooms and lounges are scheduled to be renovated beginning in May after graduation and finished by the time students return in August.
"Students love Erb central and west for the benefits of community lounge space and not having to walk outside to meals when it's cold, but they are ready for an update," said Brent Brockmueller '01, who is in his sixth year as Resident Director. "The paint, carpet and furniture are worn and dingy. At first glance, it's not the most welcoming space."
An enrollment boom in the mid-1960s led to a need for more student housing. Even after completing Kauffman Court in 1967, which added rooms for 160 men, and renovating Erb east to house 100 women, the college planned for an addition to Erb Hall that would house 184 women.
Orpha Zimmerly, Dean of Women, turned the first shovel of dirt for the new addition at the groundbreaking March 26, 1968.
The first wave of women moved from Green Gables into the new dorms in January 1969. On March 15, 1969, 25 more women transitioned from the 25-year-old Bungalow to their new living space. The building was dedicated May 31, 1969, during commencement weekend.
Now at the 42-year mark, the construction and furnishings can boast durability, as the infrastructure and furniture remain mostly in the original form, having withstood the depreciation of time and thousands of students. Interiors and corroding pipes, however, reveal their age.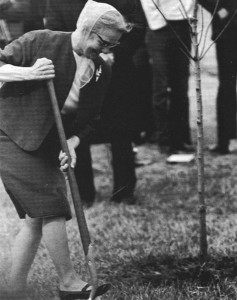 "The rooms are really showing the many years of use," said Brockmueller. "There are marks on the wall, closet units are coming loose, and the dressers and desks look worn. The newer furniture in Erb east and Kauffman Court gives space-saving options that aren't available with what is in central and west."
The Erb Hall central and west renovations have been an ongoing process over the last several years. Along with updated paint and carpet as needed, the building got new windows winter 2006 and a new roof summer 2007.
The bathrooms were renovated summer 2010, along with new mattresses.
The upcoming renovation will include new interiors and furniture, replacing rusty pipes, and new heating and cooling units. Plans include the possibility for lounges connecting central and west wings, a large community lounge over the bookstore and an elevator making all four floors accessible to everyone.
"Over and over again I see students in central and west using the common lounge spaces as places to gather and hang out with one another," said Brockmueller. "We need to make what we have an inviting and comfortable space. When we recruit students, we want to be able to show them that we have nice places for them to live."
Sophomore Shelby Barrett from Beloit, Kan., confirmed Brockmueller's sentiments.
"When I was looking at colleges, the condition of the dorms was an important factor for me," said Barrett. "Hesston has the benefit of having larger rooms. The renovation will make all of the dorms a place students want to live."
Besides making the space more comfortable and efficient for students, the renovation will also improve the college's carbon footprint and reduce utility costs.
"This renovation is not only critical for the impact on the student experience, but also to address aging infrastructure," said Don Weaver, Vice President of Finance and Auxiliary Services. "Replacing aging pipes and heating and cooling systems removes the risk of failure and lowers the overall cost of operation."
The college is continuing a $3 million campaign to raise funds for the remaining improvements by summer 2011. Donors have pledged $1.7 million to date.
In the end, a question that remains is: Will the impending renovation mean "Old Erb" wins back its historical "New Erb" title?