A story of surprises and give-and-take inspiration between a father and daughter
When it came time to choose a college and a major, Megan Cernek '14 (Elton, La.) surprised her friends and family when she announced she was interested in aviation.
Hailing from a family of mechanics and farmers in her small Coushatta Tribe community, aviation was not the typical path of choice, but it was the one that sparked interest for the reserved young woman to pursue.
"My interest in aviation started when I was 14 or 15, but I didn't tell anyone," said Megan. "I would watch the small Cessnas flying over our house looking for pipeline leaks, and I thought it would be a lot of fun to do."
Once she shared her intentions, choosing the college was easy. Her father, John Cernek '80, was a Hesston alumnus, so Megan had heard of Hesston, but she discovered the aviation program when an issue of the Hesston College Today arrived featuring the program.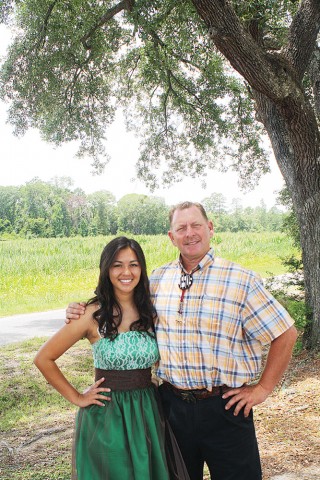 "I realized my copy of the alumni magazine had disappeared, and about a month later Megan came out of her room carrying it," John said. "When she finally announced that she wanted to study aviation at Hesston, I was surprised, but the more I thought about it, it made sense. Megan has always been inquisitive and asked mechanical questions about the cars and tractors I was working on."
"Hesston was the only college I visited," Megan said. "I never wanted to go to a mega university where students are just a number. I liked Hesston's small environment and the personal interaction with faculty."
Having grown up on a farm in Wisconsin, John discovered Hesston College after seeing an ad in the Campus Life magazine. He was attracted to the thriving agriculture department and the Christian community. He earned his associate degree in agri-business before transferring to Moody Bible Institute (Chicago) where he pursued a calling to ministry, earning a B.A. in international studies and an M.A. in pastoral counseling. He now raises livestock and serves as a pastor and school principal at Indian Bible Academy, an agricultural charter school he founded in 2005. He also completed a doctorate of education in December 2013.
"My time at Hesston was a new experience for me and stretched me in many ways," said John. "I got an education in agriculture that was as good as anything I would have gotten at a big university. I also got to know more about Anabaptist history – a branch of Christianity I had not been exposed to."
John's penchant for entertaining several interests and professions trickled down to Megan, who says her family thought she would go to culinary school or pursue photography – both hobbies she still enjoys. When considering plans of study, aside from aviation, she also entertained thoughts of majoring in Bible or agri-business like her father. Since being at Hesston, her artistic side has also been nurtured and she has grown to enjoy ceramics as well.
At present Megan does not intend to pursue a long-term career in aviation, yet she is grateful for the strong foundation she has gained as a result of what began as an experiment. Aviation students arrive for the school year a week before other students to get a jump start on classes – a start that would prove to have unique challenges for Megan.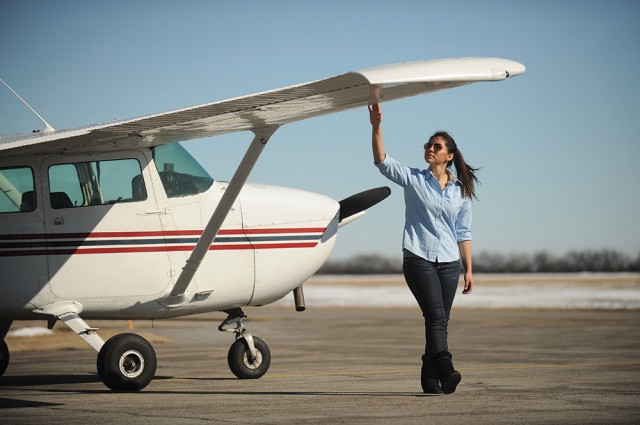 "Fly Larks Week was like drinking through a fire hose," she said. "I knew nothing about aviation and I was the only woman in the first year of the program so I was overwhelmed, nervous and worried. I finally decided to stop worrying, changed my attitude and began getting excited for what I would learn."
Despite the rough start, Megan soon became comfortable with her choice. She earned her private pilot license in February and will also finish her instrument rating at Hesston before deciding what her next steps will be.
"I just take opportunities as they come," said Megan. "All the doors opened for me to come to Hesston, and I believe this is where God wants me."
In an unexpected turn of events, John did the same thing – for a second time. Inspired by his daughter's unexpected choice in aviation, John enrolled in private pilot lessons through Hesston for about a month in the summer of 2013.
"My roommate at Hesston was an aviation major, so I would go with him to the airport from time to time, which sparked an interest for me," said John. "I began pursuing aviation at Moody, but with the call to ministry and getting married, I thought God had closed the door on it. When I got the opportunity to go back and pursue the dream I had given up on, I grabbed it."
In a whirlwind three and a half weeks, John took as many aviation lessons as he could and made his first solo flight after 10 days. He finished his private pilot training at a flight training school in Louisiana in February 2014 and hopes to return to Hesston for instrument training this summer.
"I am excited about using aviation on the mission field in whatever way God calls me," he said.
Megan's plans for the future may not be finalized, but she is confident that with time everything will continue to fall into place. Both she and her father are grateful for the guidance and opportunities her Hesston College start provided her.
"The people at Hesston – especially my instructors – have helped me develop my intellectual and spiritual maturity," said Megan. "It's surprising how much you learn about yourself when people are so invested in your life and learning."