Conference employs Heilsgeschichte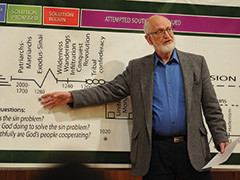 Marion Bontrager '57 explains a portion of the Heilsgeschichte timeline during the college's annual Anabaptist Vision and Discipleship Series conference Feb. 21 to 23 with the theme "Reading the Bible in an Instagram World." Using a condensed version of the well-known Biblical Literature curriculum, the 190 participants explored the Bible's relevance in social media-heavy contemporary life. Weekend presenters were Bible and ministry faculty members Bontrager and Michele (Schrock) '81 Hershberger. Music and worship was led by Jeremy Kempf '00 (Glendale, Ariz.), and learning was enhanced by dramatic performances from Ted Swartz of Ted & Company TheatreWorks (Harrisonburg, Va.).
Cultures Fair highlights multiculturalism
International students provided a glimpse into their cultures during the annual Cultures Fair Feb. 20. Students prepared and served food and performed music from their countries while interacting and sharing about their cultures with their peers, faculty and staff. More than 60 international students are part of the Hesston College community during the 2013-14 year, making up 14 percent of the total enrollment, 19 percent of dorming students and helping to expand students' world views through interaction. Pictured are Sho Ishihara '15 (Gunma-ken, Japan), Ayaka Senoo '14 (Kanagawa-ken, Japan), Narumi Hayano '14 (Kiyosu-shi, Japan), Danika Saucedo Salas '14 (Santa Cruz, Bolivia), Shikou Morishita '15 (Tokyo, Japan), Misaki Hirayama '15 (Chiba, Japan) and Kento Ueda '15 (Miyahi-ken, Japan).
Honoring Dr. King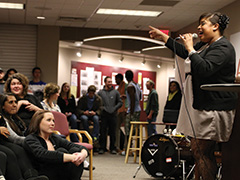 A member of the Terrel Verner Trio (Wichita, Kan.) performs at a coffee house in the Larks Nest Jan. 24 in honor of Martin Luther King, Jr. Day. The college observed the holiday with a week of events Jan. 20 to 24. The theme for the week was "A Voice of Conscience: Echoing the Words of Martin Luther King, Jr.," and featured special chapel presentations with history instructor John Sharp '74 and local college educators and community leaders Evies and Sharon, former faculty Cranford (Wichita). The coffee house also featured an open mic time for students to share music, readings and other art forms.
College receives grant for renovation project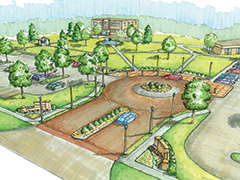 Hesston College was selected as a recipient of a $500,000 grant from the J.E. and L.E. Mabee Foundation in Tulsa, Okla., for the impending renovation of the north campus entrance and the Northlawn performing arts building.
The total cost of the project is $3.8 million. Excel Industries, Inc. (Hesston) and Jayco, Inc. (Middlebury, Ind.) made lead gift commitments for the project. President Howard Keim and Vice President of Advancement Yvonne (Yoder) '71 Sieber made the grant proposal on Nov. 5 along with Excel Industries Vice President Bob Mullet Ac63, '65.
"Mabee received a large number of grant proposals this year and we are pleased that they chose Hesston College as one of the recipients," said Keim.
Renovation work is slated to begin in December 2014 pending the completion of
all fundraising, and to be finished in August 2015.
Shifting roles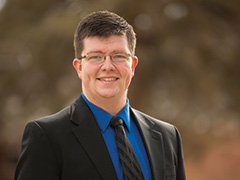 Mitch Stutzman '09 joined the Advancement team as a Development Officer for the eastern United States and parts of Kansas in January. He replaces Scott Sundberg, who served the territory for two years.
Mitch earned a B.A. in liberal arts with a special education licensure from Eastern Mennonite University (Harrisonburg, Va.). He served as a resident director at Hesston from July 2012 to December 2013 and accompanied Development Officers on donor visits.
"Mitch's ability to link Hesston College's message and mission with alumni and friends will serve us and him well in his new role," said Yvonne Sieber, vice president of Advancement.