Sophomore Kelvin Ferbianto quickly discovered that his education would mean more than classes and tests.
Choosing a college sight unseen is bold for anyone, but especially when you do it from halfway around the world.
That's exactly what Kelvin Ferbianto '14 did when he left his home of Jakarta, Indonesia, for Hesston College after plans to attend a university in Singapore fell through. He knew of Hesston through a cousin who had attended previously, but he wasn't sure what to expect when he arrived.
He did not expect such a friendly campus, to connect with so many interesting people from different places or to be a resident assistant as a sophomore. Yet that is exactly what happened.
Relationships have become the cornerstone of Ferbianto's Hesston Experience. One relationship in particular stands out among the many friends, classmates, faculty and staff who went out of their way to make sure he felt welcomed in his new community. Jason Oyer '14 (Hubbard, Ore.), became more than a roommate Kelvin's freshman year. Oyer proved to be a kindred spirit with whom Ferbianto formed a friendship based on shared interests, mutual learning and strikingly similar backgrounds.
"Jason helped me adapt to a new environment," said Ferbianto. "He made an effort to connect with me and include me in things."
Oyer says the learning from one another was mutual and balanced and has far more benefits than just homework help.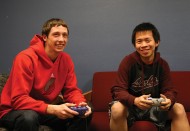 "One of the first things I noticed about Kelvin was how willing he was to help with anything," said Oyer. "The more I got to know Kelvin, the more I realized we had similar childhoods. My parents always taught me to put others before myself. He was taught the same, encouraging a very unselfish lifestyle and a polite and willing man."
That early encouragement and acceptance gave Ferbianto the courage he needed to pursue other friendships.
"I just try to not be shy, start conversations and get involved in different things," he said. "I was worried that there would be a language barrier, but people really don't care about my limited English."
Spending informal time with mod mates and working as tutor for several math and science courses helped Ferbianto connect with a wide variety of his fellow students and helped him improve his English skills.
"Kelvin genuinely loves people, and that is one of the things that draws others to him and that they respect him for," said his former resident director, Mitch Stutzman '09.
Student Life staff also noticed the ways Ferbianto connected with different types of people, and late in his freshman year he was hired as a resident assistant for mod 1B1 in Kauffman Court for his sophomore year – a job that comes with its challenges, but even greater rewards as he continues to build relationships all across campus.
Although he doesn't yet know what awaits him after leaving Hesston, Ferbianto knows that the friendships and confidence he has gained will go with him.