Hesston College Partners commit to an annual contribution level to help provide student financial aid.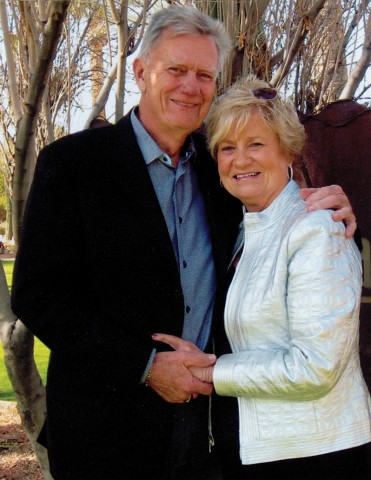 Attending Hesston Academy was a special and wonderful experience for us. Many friendships we formed have been lasting and meaningful, and the spiritual growth we experienced was foundational in preparing both of us to serve as elders and in other leadership positions at South Hutchinson (Kan.) Mennonite Church.
We chose to become Hesston College Partners 35 years ago because of our own Hesston Experience and because we believe in the values and goals the college has in educating and nurturing students. We want to see the college continue to provide today's students with the same support and encouragement we experienced, and to support those efforts in whatever ways we are able.
The college has been a major interest for us for many years, and it has been an honor for us to be involved in various ways – such as starting a nursing scholarship and serving on the Board of Overseers, President's Advisory Council and Alumni Steering Committees for capital campaigns.
We are also pleased that one of our grandchildren, Melissa Pitzer '00, '03, was equipped with skills for life and her nursing career at Hesston.
Our prayer is that through the leadership of faculty, staff, administration and the many prayerful supporters of Hesston College, it would continue to be a blessing and strong starting place for students – academically and spiritually – for many years in the future.
Partnership with Hesston College can happen at different giving levels.
Associate Partner – $42 to $83 per month ($500 to $999 annually)
Founding Partner – $84 to $166 per month ($1,000 to $1,999 annually)
Sustaining Partner – $167 to $417 per month ($2,000 to $4,999 annually)
Sponsoring Partner – $418 to $833 per month ($5,000 to $9,999 annually)
President's Partner – $834 and more per month ($10,000 and more annually)
Hesston College depends on alumni, friends and the church to support the costs of educating students. The Hesston College Partner program is made up of individuals who make ongoing annual contributions to the Hesston College Annual Fund to provide institutional scholarships and grants as financial aid for students.
About 800 individuals from 40 states and three countries are Hesston College Partners. On average, a student receives more than $8,000 in institutional aid from the annual fund each year. About 80 percent of the total annual fund amount comes from Partner contributions.
To find out more about the Partner Program, visit www.hesston.edu or call the Development Office toll free at
866-437-7866.
With great thanks…
In 1987, former President Kirk Alliman, an avid golfer, thought a golf benefit at one of his favorite courses – the world-renowned Prairie Dunes Golf Course in Hutchinson, Kan., – might be a good way to raise money for student scholarships.
His idea was a great success, and one that has continued as the annual Hesston College Kansas Golf Benefit for 25 years thanks to the hard work and dedication of two of the first organizers, Orvin and Peggy Miller of Hutchinson.
The 2012 benefit on Sept. 18, was special as it marked the 25th and final year under Orvin and Peggy's leadership and with many years of involvement from their children, Kim Pitzer and Scott and Todd Miller. It was also the first time a golfer won the hole-in-one grand prize.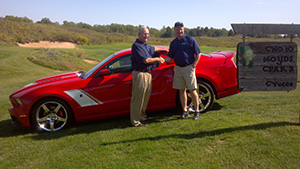 Tom West of Wichita, Kan., connected perfectly with the ball on hole 10 for a hole-in-one that won him a 2013 Roush Stage 3 Ford Mustang, donated by Mel Hambleton Ford of Wichita.
Orvin and Peggy's work for the benefit included sponsorship by underwriting expenses and recruiting golfers, and they were pleased to end their run on such an exciting note.
"We have thoroughly enjoyed organizing the golf benefit on behalf of Hesston College – it became a passion for us," said Orvin.
Bob Mullet Ac63, vice president, and Paul Mullet '70, president and CEO of Excel Industries in Hesston, will assume responsibility for organizing the 2013 golf benefit.
Thank you, Orvin and Peggy, on behalf of students, faculty and staff, for your many years of dedicated service to Hesston College and its endeavors. Your prayers and financial support have made the Hesston Experience possible for countless students.