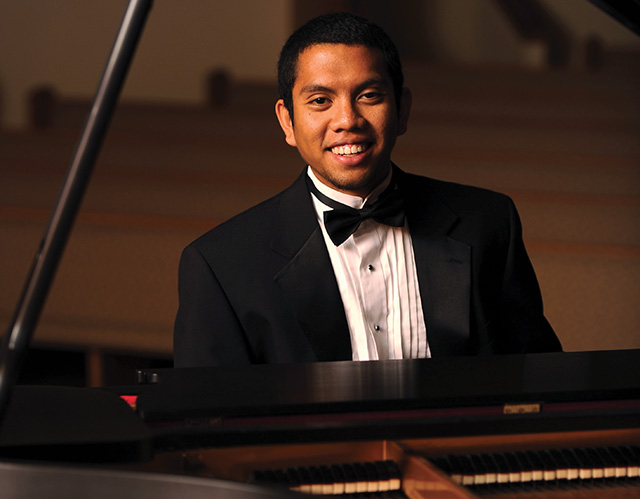 Hometown: Papua, Indonesia
Parents: Pieter and Lessy Titihalawa
Majors: Computer science and aviation
How did you choose Hesston?
I was going to school at Corn (Okla.) Bible Academy and we came to Hesston on a choir tour. I was the choir accompanist, and after the concert Ken Rodgers '85 approached me and asked if I knew where I was going to college the next year. He encouraged me to visit Hesston. I came for a visit and everything just worked out for me to start here.
How are you involved with the performing arts at Hesston?
I mainly play piano, alto and baritone saxophone and sing. I also know how to play the guitar, drums and bass guitar. This year I am in Bel Canto Singers and Concert Band, and I am taking private voice lessons. I sometimes play piano for chapel services and church services at the Hesston United Methodist Church. Last year, I was in Chorale and Concert Band and I took private piano lessons. I also played with AY (Aaron Young '12) and accompanied some of my friends for their recitals and other performances.
How long have you been studying music?
I first started taking piano lessons when I was about five years old. My sisters were both taking lessons and I asked my parents if I could, too. After a couple of years of lessons, my teacher moved away, but my parents encouraged me to keep playing on my own. My dad would have me listen to a song and then try to play it by ear.
What is your favorite kind of music to play?
I like to play jazz. I don't like to read music, and jazz is so freeing and fun. You are not bound by what is written on the page and you can make it do whatever you want. When I hear music, I like to think about how I can make it different or better, and that is what I try to do.
What are your career goals?
Right now my goal is to become a pilot. When I first came to Hesston I thought I would do a double major in computer science and music composition. I have since decided to pursue aviation and computer science. Most of the men in my family are pilots, and I have always been interested in flying. Being at Hesston gave me the opportunity to become a pilot as well. Music will continue to be a hobby for me in the future.
What does the Hesston Experience mean to you?
The Hesston Experience is learning about different cultures, backgrounds and religions, which has been a good thing for me. It is learning how to build myself up, how to be myself and create a better future.