New faculty and staff members for the 2012-13 school year include Michael Armstrong '05, admissions counselor; Jesse Baer '12, flight instructor intern; Jeron Baker '03, interim director of international student services and Student Life advisor; Robert Hunter, flight instructor intern; Daniel Kornfeld, flight instructor intern; Annali Murray '09, admissions counselor; Kathy Pinson, assistant cook; Paul Regier, science and math instructor; Jill Schlabach, Erb Hall resident director; Rachel Schlegel '05, phonathon coordinator; Mitchell Stutzman '09, Kauffman Court resident director; Scott Sundberg, development officer for the eastern United States and international alumni; Sharon Wedel '90, clinical nursing instructor; and Derek Yoder '96, development officer for the western United States.

Hesston College President Dr. Howard Keim '72 was reappointed for a third term by the Hesston College Board of Overseers and Mennonite Education Agency after a review process by the Presidential Review Committee, which began fall 2011. Keim officially began serving Jan. 1, 2005, and the next four-year term will begin Jan. 1, 2013. "I will do my best to be a good steward of the trust placed in me in the coming years," said Keim.

Karl Brubaker was appointed interim Vice President of Finance and Auxiliary Services beginning Sept. 29, upon the resignation of Don Weaver '83. Don served in his role for more than six years, and is leaving for a new job opportunity. Under his leadership, the college improved its financial position, completed important building projects and underwent a technology transformation. "Don's contributions at Hesston College have been many, and he will be greatly missed," said President Keim. Karl, who also serves as Business Office Manager, has filled the interim role previously, and will serve as interim until the position is filled.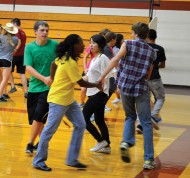 For the fifth straight year, Hesston College met the $1.24 million Annual Fund goal for student scholarships with the close of the 2011-12 fiscal year in June, and exceeded the goal by $10,000. The Development staff also completed fundraising for the Erb Hall dormitory renovations. "We are grateful to our Partners, alumni and friends for this very positive outcome," said Yvonne Sieber, vice president of Advancement.

Official fall 2012 numbers show a total student enrollment of 447, including 225 first-year students. International student numbers increased to 46 from 30. About 327 students live in the dorms. Hesston students represent 29 states and 15 countries.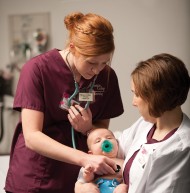 The Hesston College Nursing Department signed an articulation agreement with The University of Kansas School of Nursing (Lawrence) allowing nurses with an associate degree to easily transition to receive their bachelor of science in nursing through KU's online RN-to-BSN program. The Hesston nursing program has long-standing articulation agreements with the other Mennonite colleges, but the agreement with KU is its first agreement with a public university.