At least 20 Hesston College students, several faculty and staff and Homecoming weekend guests, not to mention any student at Hesston Academy or College from 1959 to 1961 who knew Ron Shetler Ac61 can claim two degrees of separation from Regis Philbin.
"Six degrees of separation" is the idea that each person on the planet is connected to every other person by an average of six other people.
And Ron is the Hesston community's connection to Philbin, Dylan McDermott, Dana Reeves and many other recognized names from TV, movies and the stage. In fact, many of them use skills learned from Ron in their careers.
Ron Shetler Vocal Studio and Shetler Studios & Theatres, businesses Ron built in New York City's theatre district, are places for performers at all points in the industry to improve their singing skills through his proven technique and to audition, rehearse and perform.
"What I do gives singers vocal freedom," said Ron. "It teaches talking on pitch while allowing sound to be made."
Using his own work as a performer and intense medical study of the voice and the physics of air, Ron developed the technique, which is a safe and simple system to survive the vocal pressures of musical theatre.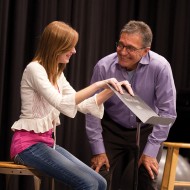 The idea for his work came when he was fresh out of college with a bachelor of music degree in voice from Redlands (Calif.) University. As his 15-year performance career in musical theatre took off at a time when the art was undergoing a change from operatic to rock, so did the necessity for accommodating vocally strenuous music. Thus was born The Shetler Technique.
"All of a sudden I was thrust into shows and using my voice in a completely different manner," said Ron. "Performers were injuring their voices, so I decided to figure out what was going on with the body physically and work with it."
As a student at Hesston Academy, Ron sang in the choirs, but didn't consider himself the best vocalist. But when he went to a college in his home state of California where he was the best singer, and therefore the choir's soloist, a career in performance entered his mind.
"Once I realized singing wasn't something just everyone could do, doors started to open and I felt compelled to walk through them," he said.
Others began to notice his vocal success on stage and in 1973 he began teaching voice lessons. In 1980 he stopped performing and started teaching full time and in 1983 became the singing instructor and musical theatre director at the Neighborhood Playhouse School of Theatre, where he taught voice and edited and directed shows until retiring in 2011. In 1990 he founded his business where he continues to teach his famed technique to performers.
"Singing is an art we pass on from generation to generation," he said. "I love being able to share that."
Ron has starred in three Broadway shows, 15 national and regional tours, films and documentaries, as well as earned Actor's Equity and Screen Actors Guild status, performed in his own band, released an album with legendary jazz guitarist Herb Ellis and composed a film score for Roger and Julie Corman at New World Pictures. He has directed or produced more than 80 shows, revues, cabaret acts, recordings and videos.