Jason Miller '92 always wanted to fly. His wife, Monica (Diener) '93 Miller, has a photo of him sitting in a cockpit when he was about six years old. She has another photo of him piloting a plane at the age of 28, his childhood dream realized.
It wasn't long after that last photo was taken that Jason's life ended in a plane crash on May 10, 2000, while on a night visual approach for landing in Molokai Island, Hawaii. Jason, who flew worldwide as a corporate pilot with Executive Aircraft of Wichita, Kan., had more than 2,000 hours of total flight time and was the copilot on the trip. The plane's captain and all four passengers also perished in the crash.
"Jason loved flying," said Monica. "He was a highly skilled pilot, and he excelled in his career at a young age. Flying put a twinkle in his eye."
A National Transportation Safety Board investigation of the accident determined the cause to be inadequate crew coordination and communication. In short, a misjudgment of altitude and disorientation after a long day of flying ended in tragedy.
As Monica began to receive memorial donations following Jason's death, some of them large gifts from Jason's clients who thought highly of him, she knew the money needed to go to Hesston College.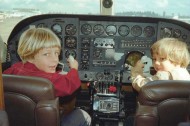 "Hesston College meant so much to Jason," recalled Monica. "It's where he made lifelong friends and learned to fly. He taught there (flight instructor in 1996-97), and we have many family ties to the college. (Jason's parents are Lyle '65 and Joyce (Nafziger) '67 Miller, Monica's parents are Weldon '69 and Judy Diener.) Hesston is a formative place for students, and we wanted to do something to help other pilots avoid what happened to Jason."
The Jason Miller Memorial Fund was established with the initial gifts upon Jason's death and receives ongoing donations from Jason and Monica's families. It has been used to upgrade the Aviation Department's technology with new flight simulators and ongoing software upgrades, keeping Hesston's flight training current.
The Jason D. Miller Memorial Endowment for Flight Safety Instruction was established with sizeable donations from Jason's grandparents' estates, and is used to purchase curriculum and fund on-site experiences addressing flight safety practices, pilot error and crew resource management.
"We are so blessed to have these gifts available for our students," said Dan Miller, director of Aviation. "The emphasis we place on flight safety gives our students the confidence and competence to handle any safety situations in their careers."
The Miller and Diener families are pleased that flight safety instruction continues to be emphasized at Hesston College as Jason was always safety conscious.
"Our family is honored to be a continued part of Hesston College Aviation and to support a program that was so instrumental in forming who Jason became," said Monica.