Senior Safety Analyst for the National Transportation Board, Washington, D.C.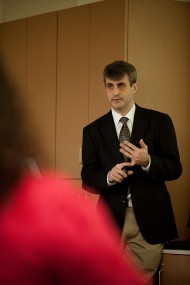 Education after Hesston: B.A. in psychology and Ph.D. in human factors psychology
from Wichita (Kan.) State University
Tell us about your career.
After graduating from Hesston, I was hired as a flight instructor for the college. In 1995 I left to fly for Air Midwest, a commuter airline based in Wichita. When my wife Trinda (Swartley) '92 finished graduate school, it was my turn to go back to school. My interest in aviation safety had been growing since my time at Hesston so I left the cockpit to pursue further education, ultimately earning a doctorate in human factors psychology – a mix of psychology, engineering and physiology that focuses on understanding human capabilities and improving the way people interact with each other and with machines. I had the chance to work on a variety of research projects during graduate school including an FAA project to improve the manuals used by technicians to maintain aircraft. During that project I had the chance to work with the National Transportation Safety Board, and I knew that was somewhere I really wanted to work. I have worked for the NTSB in its Washington, D.C., headquarters since 2002.
Who at Hesston had the greatest influence on you?
Curt Epp '89, Art Karnes and Nate Faul were flight instructors while I was a student and they were friends and mentors to me when I started instructing. Curt was my instructor for private pilot and instrument rating, and as it turned out, he was a pilot for Air Midwest when I was hired there several years later. He continued to be a mentor as I started my airline career.
I also have fond memories of working summers at the college with Bill Regehr and Tim Goering '76. They both taught me skills I have used many times as a homeowner, and Tim and I spent a lot of time hunting and fishing together.
What are your greatest career accomplishments?
I am fortunate to have had great career opportunities. I work with some of the smartest and most dedicated people I know. I have had the opportunity to work on a lot of meaningful projects and have hopefully had a positive influence on transportation safety.
What does the Hesston Experience mean to you?
Aside from the education, I think of the friends I made while at Hesston. Even though we live far apart and may not talk often, the friends I made at Hesston are still some of my closest. I also think that the faculty and staff showed a genuine interest in the students, something that is much less common at many other colleges and universities.
Tell us about your family.
Trinda and I have two daughters, Lily, 8, and Elsie, 4. Trinda earned a master's in speech pathology and worked in the Wichita Public School District for several years. She now serves on the board of Elsie's preschool.