There are at least two key elements for climbing the professional ladder: connections and experience. At Hesston College, these simple lessons are ones the Aviation Department begins instilling in students from day one.
Hesston College aviation graduates, friends and former roommates Markus Hess '07 and Travis Pollock '07 paid attention to the message and put it into practice. Now, just four years after graduating and at only 24 years old, both are making a name for themselves in the aviation world. Markus is a pilot with Citation Technology Partners (CTP) based out of Hayward, Calif. Travis is a first officer with Cutter Aviation based out of Phoenix.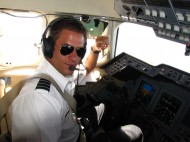 The friends may be considered young by corporate aviation standards, where experience is measured in terms of flight hours, but they are excited by their opportunities to gain experience as they work toward fulfilling career goals. They agree that their positions are a testament to the skills, professionalism and networking they learned at Hesston.
"I have heard a lot of comments about how young I am," said Markus. "It's very humbling and an honor to know that those comments are because of the position I hold at only 24. But it all comes back to where I started and where I got my training."
Markus and Travis arrived at Hesston College in August 2005 – Markus came from Goshen, Ind., and Travis from Richmond, Texas. Both knew from a very early age that they wanted to be pilots, and both appreciated the small community and one-on-one attention they received from their flight instructors and Director of Aviation Dan Miller. Being in flight training together and having similar goals helped them become acquainted quickly.
"It was always a competition between Travis and me to see who could get his ratings first," Markus recalled. "I was ahead our first year, but he ended up beating me our second year."
Upon graduating in May 2007, that competition soon turned into collaboration as the two young pilots began looking for jobs. Travis spent the next two years as a flight instructor at Hesston while Markus returned to Indiana and worked at New Horizons Aviation, a flight training company owned by Hesston College graduates Dan Steiner '78 and Roger Yoder '79, a connection he made through the men's sons, Nathan Steiner '07 and Matt Yoder '06, both of whom also graduated from Hesston's aviation program.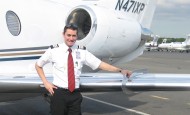 When Travis landed a job with Flight Safety International in Wichita, Kan., he called Markus and encouraged him to apply for a job as well. Markus was soon employed by Flight Safety and the former college roommates were roommates again, helping one another navigate life in corporate aviation.
"Starting out at Flight Safety was like trying to drink water from a fire hose," said Travis. "It was a new environment, which can be overwhelming, so I was thankful for the professionalism that Hesston promoted and that Markus was there to bounce ideas off of when there were struggles with work or life."
"Travis has motivated me since I met him that first week at Hesston," said Markus. "His determination to advance his career is an encouragement for me."
When it came time to move on to the next step in their careers, Travis moved first to a position as first officer with Cutter Aviation where he flies private customers on Beechjets and a Mitsubishi Diamond Jet.
He recently earned his Airline Transport Pilot License (ATP), and is waiting to be upgraded to captain status. Being on call every day suits him as it is an opportunity to build his flight hours toward his ultimate goal – flying Boeing 747s or 777s as a captain for a major airline.
"Flying is my passion," said Travis. "I get to be in control of something that is so huge and powerful. I like the challenge and I am a perfectionist, so I'm always in competition with myself to do things better than the last time. I've trained hard and I'm going to keep working hard to be great at what I do."
About a year after Travis moved to Phoenix, Markus followed his friend's lead into the world of corporate flying. He flies a Hawker 800XP jet for private customers with CTP while doing charter flying on the side. Like Travis, he is building his flight hours until he earns his ATP and reaches captain status with a major airline.
"It's exciting and overwhelming to think that I am moving in the direction of realizing my goals," said Markus. "Even though I'm young, I've never felt inadequate. This is what Hesston and my job with Flight Safety prepared me to do."
Although they now live more than 700 miles apart, the friendship and partnership they built as aspiring student pilots with similar dreams connects them.
"Aviation is a tough training course – it's very demanding and overwhelming," said Markus. "When you find people you work well with and who motivate you, it's important to keep in touch with those people and maintain those connections. They are the people you can count on to help you out later on."