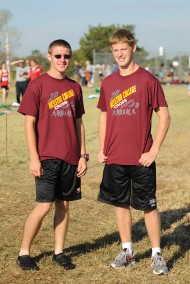 Kenny Graber '12 (Stryker, Ohio) and Jacob Landis '13 (Sterling, Ill.) are two of the top men's cross country runners at Hesston College. A generation ago, their fathers also ran on the Hesston campus. Collectively, their competiveness, ties to family and faith, and support of Hesston College have led to four similar stories.
Joe Graber '83 and Keith Landis '83, fathers of Kenny and Jacob, met during Joe's visits to his grandmother's home in Sterling, Ill., in the 1970s. Both later ended up at Hesston. Decades later, it has been gratifying for them to watch a similar story unfold for their sons.
"As parents, we hoped Kenny would attend Hesston," said Joe, whose wife Karen (Miller) '83 Graber also attended Hesston. "When Hesston reintroduced the cross country program last year we thought it was an answer to prayers. To have Kenny run with the son of a former classmate with whom I ran is truly a joy."
"Jacob enjoys the Hesston stories from both his parents (Jacob's mother is Lois (Kaufman) '83 Landis) and his aunts, all who were Hesston graduates," Keith said. "When we talk about college in our family, a response might be, 'You mean there are other colleges?'"
Although Hesston didn't field a varsity cross country program when the elder Graber and Landis attended, they did offer a running club, in which both were involved. It's apparent now that the fathers' time at Hesston influenced their sons' college decisions.
"I would say that the family ties definitely provided some motivation for me to attend Hesston and run here," said Jacob. "I guess it felt like taking over the family business in a way. There is a feeling of nostalgia and pride when you follow in your parents' footsteps and support something they supported."
"I think it's cool that I get to compete at the college level at a place that meant so much to my parents," said Kenny – who as a freshman qualified for the National Junior College Athletic Association national meet in Spartanburg, S.C.
Cross country coach Gerry Sieber coached men's soccer at Hesston when Jacob and Kenny's fathers were students. He has worked with a lot of athletes in his 40-year career as a collegiate coach, and he was excited to bring such high-caliber runners to Hesston's program.
"Jacob and Kenny are both outstanding athletes and young men who could be running at a higher level," said Sieber. "Their fathers were also tremendous athletes. I feel blessed to have the opportunity to coach such gifted runners."
The teammates have other common interests besides cross country. Both list music and an opportunity to explore and grow their faith as key components of their time at Hesston College.
"Hanging out with the guys in the mod, playing intramural sports, participating in the choir and Monday night hymn sings in the racquetball courts are generally what keep me busy when I'm not studying or running," Kenny said.
"I was thrilled when I found out about the Monday night hymn sings," Jacob said. "One of the things I love about Hesston is that it helps students grow spiritually as well as academically and socially. I just don't think there are many schools out there that are as intentional as Hesston about developing the whole person."
Looking back a few decades, their fathers have a similar story to tell.
"Choir tours were amazing and music has been a big part of my life ever since Hesston," Joe said. "But what I valued most about Hesston was that, as a student body, our one common goal was to serve God wherever our profession took us."
"The friendships I built at Hesston were lifelong," Keith said. "It was a positive experience for me, and it's gratifying to see my son attend the school that my wife and I attended."