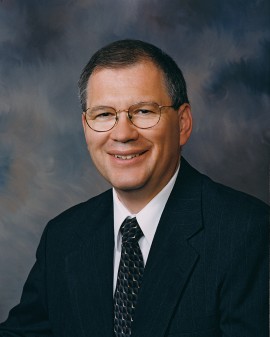 Few programs capture the imagination of Hesston College alumni and friends more than the aviation program. Flying carries a feeling of adventure and seems to embody the spirit of "Start Here, Go Everywhere."
The program started in the fall of 1970 with one rented single-engine airplane. I flew in that plane along with others to Rocky Mountain Mennonite Camp in Colorado, where we were part of the program for a high school camp. On the way back, the air was bumpy and it was all I could do to keep my lunch in my stomach. We bonded on that trip and later had "pizza and prayer" at Dave Forrer's (former director of Aviation) apartment as we relived the experience.
The program began with a vision, or perhaps a dream, as Byron Yost sat with Laban Peachey, the college's president at that time, over lunch at the Colonial House in Hesston. The program has had its ups and downs over the years (pun intended), and enrollment has tended to follow the economics of the general aviation industry. Now, in retrospect, we see the great outcomes of many years of work and investment, with hundreds of pilots serving with mission groups, in aviation-related businesses, and flying for major airlines. A few graduates have learned to fly and then later given it up for other pursuits. Many have made aviation their life work and vocation.
The program has grown to five planes, a larger space, and three full-time faculty and several flight instructor interns. Two years ago, an additional option of air traffic control was added, with 12 students enrolled in the fall of 2011.
I know of few professions that require more attention to detail, safety and good judgment. These habits, along with a sense of aviation as a mission are part of the curriculum at Hesston College that goes beyond the skill of flying. Each year, our Aviation Department dedicates two days to a symposium on "Aviation as Mission" to expose our students to service as a way of life, regardless of one's vocational choice.
The aviation program is a tribute to the vision of its founders, the ingenuity and dedication of its faculty and the many investments by students, parents and friends. To be inspired, visit the facility east of Newton and take a look at the wall of fame. There are the autographed backs of the shirts of current students who have just completed their first solo flight. There are also pictures of graduates, many of them in uniform with their planes. The newbies have their cloud of witnesses, inspiring and cheering them on. May many more take their places on that wall and in life as graduates of this program.