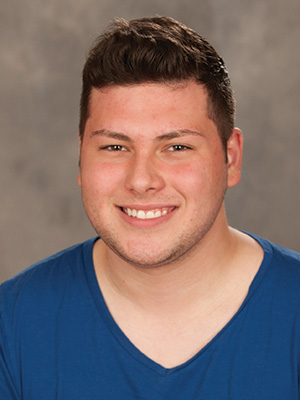 Financial aid is a key element in allowing students to attend Hesston College. I don't have any family support to help me financially, so I am relying completely on myself and financial aid. The largest portion of my financial aid comes from Hesston College and the generosity of its supporters.
Thus far, my experience at Hesston College has been one of great enrichment and growth. I have been able to apply my faith and ambitions into one stream and I am only at the beginning of where this will lead me.
I also have had the privilege of working for Development as a Student Development Officer calling alumni for Phonathon. This is one of the most sought after campus jobs because word got out about how much fun it is talking to alumni and hearing the stories of their own Hesston Experience. I get to hear some of the most amazing stories – from how love blossomed to times where difficulties were overcome by the college's commitment to working together as a community.
When people ask why they should give to Phonathon, I return with another question: "What has Hesston College given you? Wouldn't you like to offer that to future students, too?"
Phonathon 2015
This fall, 28 students are serving as Student Development Officers, phoning alumni and friends across the country for the annual Phonathon effort to reach the goal of raising $100,000 for student financial aid. Phoning runs through late November, and as of this writing, more than $40,000 has been committed. If you've already talked with a Student Development Officer, thank you for the few minutes you spent sharing a bit of your story. If you made a gift to Phonathon as well, thank you for your support of the student experience. Every gift and every amount makes a difference to students who choose to start here.
Did you miss our call? Please consider giving online at hesston.edu/give.