The Hesston College campus community was shocked and saddened by the sudden death of Elam J. Peachey from a heart attack Jan. 6, 2011. Elam, a Development Officer and Planned Giving Advisor, was 70 years old.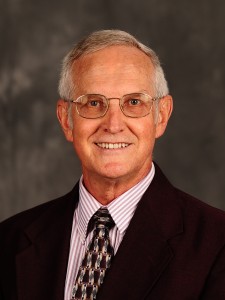 Elam worked at Hesston College in various roles in Development since September 1990, including Development Officer, Director of Development and Executive Vice President for Advancement. At the time of his death he was a part-time Development Officer and Planned Giving Advisor. He also served as board chair for the Dyck Arboretum of the Plains and as co-chair for the college's centennial celebration in 2009.
"Elam was a faithful servant of Jesus Christ and the church," said President Howard Keim. "We will miss his dedication to the mission of the college, his careful work, his kindness and generosity."
Elam built relationships with many Hesston College Partners and donors in his 20 years at Hesston College and maintained connections with churches and other constituents. Working with John Griffin, Sr., Elam was at the forefront of establishing planned giving as part of the college's development efforts.
"Elam's understanding of planned giving and philanthropy was a gift to the college and the many with whom he worked," said Vice President of Advancement Yvonne Sieber.
Elam's colleagues will remember him for his deep love for Hesston College and the broader Mennonite church. Among the things that gave Elam the most joy in his work were the relationships he enjoyed with colleagues, students, alumni, donors and Partners.
"Elam as a person embodied the spirit of community that is Hesston College," said Director of Alumni and Church Relations Dallas Stutzman. "He maintained high quality relationships within the college and also across the college's many constituencies and the Mennonite church. His untimely death is a great loss to the college, Hesston and broader church community."
Elam is survived by his wife, Nancy; daughters Shana Peachey Boshart and her husband David, of Parnell, Iowa; Cheryl Peachey Stoner and her husband, Robert, of Hesston; and Leigh Ann Peachey O'Halloran and her husband, Keith, of Hesston; nine grandsons, one granddaughter-in-law, and one great-granddaughter.
Memorials have been established for Hesston College and with the Mennonite Church USA Racial/Ethnic Leadership Education fund. Family and friends also may sign an online guestbook available on the Development page of the Hesston College website, www.hesston.edu.