When you love your job – and it includes flying planes around the world – even being at work can seem like vacation.
That's how Lois Maust '80 often feels about her job as a captain at NetJets Aviation where she works a "seven and seven" schedule – work seven days followed by seven days off.
"My dad tells me I go on vacation for seven days and then I'm off for seven," said Maust. "While the seven working days aren't always like a vacation, it's a rewarding career and one I thoroughly enjoy."
Maust discovered the joy of flight early in life and has embraced it ever since. Her father is a pilot who owned a Cherokee 180 that he flew for recreation during her childhood.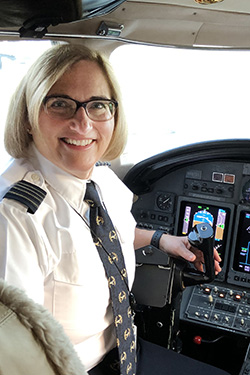 "I always jumped at the chance to go flying with my dad, and loved it when he let me take over the controls," said Maust. "When I was 16, I took my first flying lessons at the local airport and decided that a career in aviation was something I wanted to pursue."
After two years at Hesston College, Maust began working her way up the aviation ladder.
Her first job was flying a Cessna 172 carrying a traffic watch reporter over the city of Phoenix, Ariz., during morning and afternoon rush hour. She soon moved to flight instructing, followed by flying twin engine aircraft for a small commuter operation, and then flying for a company that offers fractional ownership in business jets. She also spent several years as a General Aviation Safety Inspector with the FAA. Flying with NetJets, a private business jet charter and aircraft management company, pilots are awarded fleet bids to fly one type of aircraft at a time. Maust loves flying the Citation X aircraft and has been piloting in that fleet for 20 years.
Maust enjoys the challenges that come with each new day and new flight, and prefers to take an optimistic view of each situation.
"During each seven-day tour of duty, the daily schedule is constantly changing, and the ability to be flexible to meet the needs of our aircraft share owners is imperative," said Maust. "The tentative schedule for the next day is assigned at the end of each duty day, but by the start of the next day, there may be a completely different plan. The only thing that is constant is constant change. The way I see it, every day is an adventure!
With her fascination in aviation, she is also wowed by the constant changes with technology and aircraft capabilities and modern travel in general.
"It's always interesting to me to fly to places like Hawaii and Bermuda," she said. "We cross so many miles of open water to a small island in the middle of a big ocean. Modern navigation equipment gets us there without fail, and I'm always awed to think that people found these remote places centuries ago with nothing but the guiding lights of stars."
"Careers in aviation continue to become more complex with new aircraft, updated navigation equipment, changing airspace structures, regulatory changes and higher experience requirements for desirable jobs," said Maust. "I'm pleased to see Hesston adding educational options for students, and I hope Hesston College Aviation continues to be the launching pad for many successful aviation careers. I look forward to sharing the flight deck with other Hesston College alumni!"