The start of Hesston College's second bachelor's degree program this August – the Bachelor of Science in Aviation-Professional Pilot – is momentous in its own right. It's equally momentous for the four students who earned their Associate of Applied Arts and Sciences in Aviation-Professional Pilot in May and who have decided to continue at Hesston, making up the first class of aviation students to go through the new degree program. 
Chris Lichti '19, '21 (Shickley, Neb.) knew the bachelor's program was a possibility when he was considering Hesston College as a prospective student, but nothing was yet guaranteed. Lichti decided to take his chances anyway.
"I was considering Hesston as well as large state school programs," said Lichti. "I appreciated the community-feel Hesston provided – I wasn't finding that with the big state schools. I also liked that I would get more individual attention in the aviation program and have opportunities to fly more often."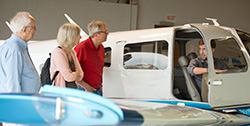 For the class of 2019 aviation students, the program could have felt chaotic and disjointed. The students entered the program just a little more than three months after program director Dan Miller '78 passed away unexpectedly. Their first year, the program operated with interim directors Travis Pickerill '99, '00 and Amy (Bachman) '01 Birdsell, who stepped up and pulled double duty with their chief flight instructor roles. Aviation faculty and staff kept the behind the scenes work toward the bachelor's degree program afloat, and when director Mike Baker '93 came aboard in July 2018, they were able to move the project along to accreditation in Baker's first semester.
Aviation faculty and staff worked hard to make sure their students were taken care of, cared for and stayed on track to meet their goals. Students came away with such a good experience, they're coming back for more.
"I'm excited for the internship opportunities that will be part of the bachelor's program," said Lichti. "I looked into transferring a little bit, but I like the path I'm on here. I also looked into moving on and working as a flight instructor while I build my hours, but I'd like to move into flying jets fairly quickly, and with a bachelor's degree I am better suited to get a job right out of college that will be more in line with reaching my career goals. That's really appealing for me." 
Third- and fourth-year students in the bachelor's degree program will have opportunities to be flight instructors for the first- and second-year students, but Lichti was able to start earlier with his flight instructing. He earned his Certified Flight Instructor II rating just about a week before graduation, and has been spending his summer back home in Nebraska as a flight instructor for local aviators.
"Mostly guys who have their private pilots' license and have their own airplane and want to get instrument rated, so I'm helping them do that," said Lichti. 
Lichti is grateful for the professionalism and preparation he's gained from the program so far, and even the unexpected parts have been positive.
"I didn't expect to move as quickly through my ratings as I did," he said. "Having the opportunity to move through flying at my own pace and pick up my ratings pretty quickly has been very beneficial."