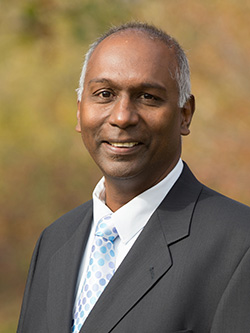 Even through this year's "summer lull," activity at Hesston College hasn't slowed. We've been working full-steam on preparing for the August launch of the new bachelor's degree in aviation, starting research and development for other four-year degree programs, watching daily construction progress on the nursing and athletics projects, and taking groups around the world on trips meant to expand global awareness, engagement and growth.
These trips are especially significant as they are transformative for participants whose eyes are opened to the realities of the broader world and different cultures and contexts. Following the 2018-19 academic year in mid-May, groups from the campus community traveled to the U.S. Pacific Northwest, Japan and Thailand.
I was fortunate to co-lead the trip to Thailand and share the country of my birth and my home for many years with Hesston College students, faculty, staff and constituents. For some, this trip was a first experience out of the United States. Others had experienced the world in many ways and in many places. But for every single person – including me for whom Thailand has been home – it was a transforming experience. We experienced the culture and food, but also connected with people desiring to live in right relationship with one another. We spent time in a refugee camp hearing stories from people who have been displaced for generations. We made interfaith connections and visited with artists expressing their realities, pain and hope through their craft. I was impacted by this journey we had together, and I am so grateful for the opportunity of experiencing and witnessing the transformation and understanding that happened for each one of us.
The trip reminded me of what the world needs from Hesston College and why it must exist for years to come. Hesston College is a place where community is built among diverse groups of people. It is a place that introduces new perspectives, new ideas and appreciation of our common humanity. Yet we can't get to the place of understanding one another without intentional engagement. It's why these trips and experiences are critical to the learning and growing process, and why we're working diligently to make opportunities like this possible for every student who starts here.
As you read through this issue, you'll hear in more detail about the exciting ways Hesston College is working toward future growth and relevance. Be assured that even as new programs and initiatives come, at the core Hesston College will continue its legacy as a strong place to start. We will continue to provide our students a foundation and network, encourage faith formation, give involvement and leadership opportunities, and remain committed to the Christ-centered roots from which Hesston College was born and has built upon for the last 110 years.
Dr. Joseph A. Manickam '87, President