When Dan Good '90 was sharing his reflections on the life of a pilot for this story, he was in Anchorage, Alaska, preparing for a seven- to 10-day schedule that would begin a few hours later and take him to China; Bangkok, Thailand; Mumbai, India; Cologne, Germany; ending in Louisville, Kentucky. 
The aviation field is expansive in general, and even when just looking at it from a pilot's perspective, opportunities for a variety of experiences are plentiful. Good's resume is testament to that.
Like many pilots, over the last 25 years Good '90 has moved up the industry ladder as he built flight hours and experiences. Each step along the way has presented situations for which he is grateful and added to a career that he loves.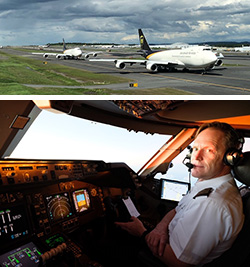 Today, Good is a pilot for United Parcel Service (UPS), flying 747's around the world, but the path to get there literally took him around the world.
After graduating from Hesston College, Good was hired by Hesston as a flight instructor, which he did for two years before moving to Lisbon, Portugal, to work in mission aviation for seven years.
"Mission aviation is unique and unusual for many pilots," said Good. "I flew for a Portugese ministry that would travel the world on evangelical campaigns or for training church leadership. It was one of my most satisfying jobs as I was making a difference for time and eternity." 
During his mission flying years, Good met and married his wife, and in 1999 the couple moved to Wichita where Good took a job as a corporate pilot with Koch Industries. 
"That was a very professional and cohesive group of pilots," said Good. "It was a treat to be a part of that level of professionalism and see the job from that vantage point."   
In 2006, Good was hired by NetJets, which operates private jets, and was based out of Saudi Arabia. The Goods moved to Brazil to be close to his wife's family while Dan commuted to the Middle East and worked five weeks on/five weeks off schedules.
Just a little more than a year ago, the Goods moved back to Kansas, even while Dan flies from a company base in Alaska. His schedule is typically seven to 10 days on followed by seven to 10 days off. 
"There's a lot of variety with aviation," said Good. "I'm grateful for the opportunities God has presented me. Every step along the way has been right for that point in my life and career. Right now, the most I work is 14 days a month, which gives me more time at home with my wife and 17-year-old son than I had with some previous jobs." 
As a Hesston College Aviation alumnus, Good is pleased at the way the program is expanding and creating new opportunities for students to also explore the many paths available in the industry.
"Hesston has had an outstanding aviation program for a long time, and adding the bachelor's degree option is a great benefit," said Good. "Having a bachelor's degree isn't a requirement for many companies that hire pilots, but it's something that sets you apart from other candidates. It makes you more competitive and desirable."