by Jacob Gibbs
Hesston College Athletics had a very unusual semester, as we didn't have any normal fall sports competing. Men's soccer, women's soccer, volleyball, men's basketball and women's basketball all had their seasons moved to spring 2021 due to COVID-19. With practice restrictions set by the NJCAA, Lark Athletics tried to find new ways to practice during the pandemic. Many teams spent their practice days practicing in pods and weren't able to practice as a full team due to COVID restrictions. This gave our coaches a great opportunity to go out and recruit more than normal this semester which has resulted in many sports almost completing their recruiting class for the 2021-22 season.
This fall semester four new coaches joined our coaching staff: Matt Hiebert '14 (men's basketball), Michael Smalley '07 (women's basketball), Taylor Littleton (volleyball) and Kyle Olsen (baseball). Each of these coaches have brought positivity to our department and to their respective teams.
In September, the KJCCC passed a new rule that allowed teams to play in fall scrimmages with outside competition. This was exciting news for Larks Athletics, as many of our teams were able to begin preparing for their spring seasons by playing outside competition. Our softball team played many scrimmages in fall, and was able to take advantage of the newly-opened Bess Mullet Field. Our athletes also made good use of the weight room that was added to the newly renovated Yost Center.
This semester was a challenge for our athletic programs, but our student-athletes and coaches were able to meet that challenge and better themselves for their upcoming seasons in the spring.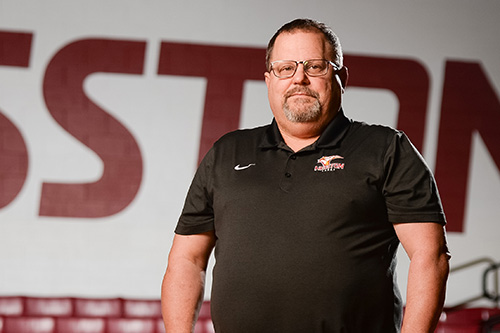 Kehr named Athletic Director
Hesston College has appointed Bryan Kehr as the Larks' new athletic director. Prior to the appointment, Kehr served as interim athletic director during the Fall 2020 semester, as well as coach for the women's soccer team.
Prior to his hiring as Hesston's women's soccer coach in 2010, Kehr served as athletic director and instructor at Bethany Christian Schools in Goshen, Ind. Kehr launched the varsity girls' soccer program at Bethany and subsequently led the team to four sectional titles and one regional title.
Kehr accepted the interim athletic director role last summer and will continue to serve as women's soccer coach through the spring of 2021.