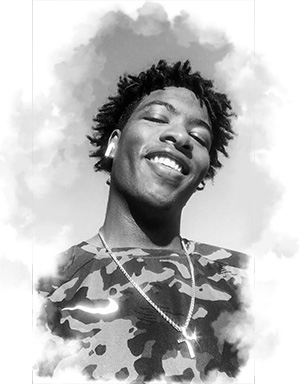 Major: Communication, Sports Management
Go Everywhere: Active in baseball, music and sports video production at Cameron University, Lawton, Okla.
A Home in Hesston
I graduated high school in 2016 and went to a baseball academy called The Complete Showcase in McKinney, Texas. The goal was to continue developing baseball skills without losing a year of college eligibility. In early 2017, I was recruited by Hesston baseball coach Kyle Howell. He took three of us to dinner and invited us to their game against Richland College. I went in the HC dugout and just started talking to people and I had the most fun I'd ever had. I was talking to guys who were funny, who were cool, who were just happy to see me and meet me. I was just like, "You know what? They play again tomorrow. I'm going to come back and see what it's like." I never even heard about Hesston; I just felt good about it. A month later we drove up to Hesston. I remember going through the town of Hesston and pulling up to the front of the college and thinking, "This place is kind of crazy!" It was a small town feel that I genuinely resonated with—the humbleness, the smallness of it. Then I met the people on campus and I was just like, "I think this is where I'm supposed to be." I signed with HC in March and got a lanyard that said "Hesston College." I put that on my keys and was like, "This is where I'm going to school."
Fast forward to my sophomore year: Todd Lehman was the campus pastor, and he asked me to host a Sunday campus worship. I planned it along with Jaden Hostetter '19 and David Ladwig '18. I was worried nobody would come, but we did some traditional gospel songs that I learned—Kirk Franklin, Marvin Sapp—and we did "Because of Who You Are." My good friend David Berzins '19 spoke on overcoming adversity. I felt a sense of joy and a sense of family that whole night from people walking in. I was greeting people, getting on the microphone, talking, breaking the ice and being emcee, and then starting to lead worship and sing songs. There were like 200 people in the Keim Center basement, and I was so overwhelmed with joy and felt like everybody had a good time. Todd told me after that he was really proud of me and I thought, "This is something I will always remember."
On Giving to the Protect the Larks Fund
Thinking back on times like that—times where we lead worship or a talent show, or playing baseball games, thinking back on all the people I had fun with—I just felt called. This is my place, a place where I can always come back. I went to school here, and I'll always be able to connect with the students here even though it's a two-year college and there's so much turnover. Even though there's so much stuff going on, I feel like the essence of Hesston is always going to be there, so that's why I was like, "Yeah, I'm going to do something [when the call went out to donate to the Protect the Larks Fund.]"
Regarding Resilience
Hesston taught me to be myself. The reason I truly felt called to give to the Protect the Larks Fund is for the next generations of students that are going to come in. At two-year colleges the turnover is so rapid. When I went back to see some of my friends I only knew the second-years and I didn't recognize any of the first-year students. But I could still see on their faces the things I felt my freshman year. That's what made me think about giving: that resilience. The resilience [of the Hesston College community] is the spiritual, the community and the values that define that place. That's what resilience is. Those aspects should live on through each class, through each generation. My sophomore year, being an ambassador and an RA, I met with the board members of Hesston, the people that went to school and then went and got jobs but came back. They talked to us about their experiences at Hesston and how the same values—the community, the relationships—what it's like now is like it was when they went to Hesston in the 70s, 80s and 90s. Now it's 2020 and they still see the same values in the people that were born years later that have different lives and are from different places in the world, all gathered in the same place in Kansas. That's resiliency to me. That's why I want to be a part of this.